The We are Commoners exhibition is divided into three themes: claiming, healing and co-operating. This page focuses on healing.
This theme is about caring for each other and how artists use hands and materials as a way of healing.  Artists can create safe spaces to try new things and build relationships. Some artists see making activities as part of an 'emotional commons' and making where you give and receive as an act of commoning.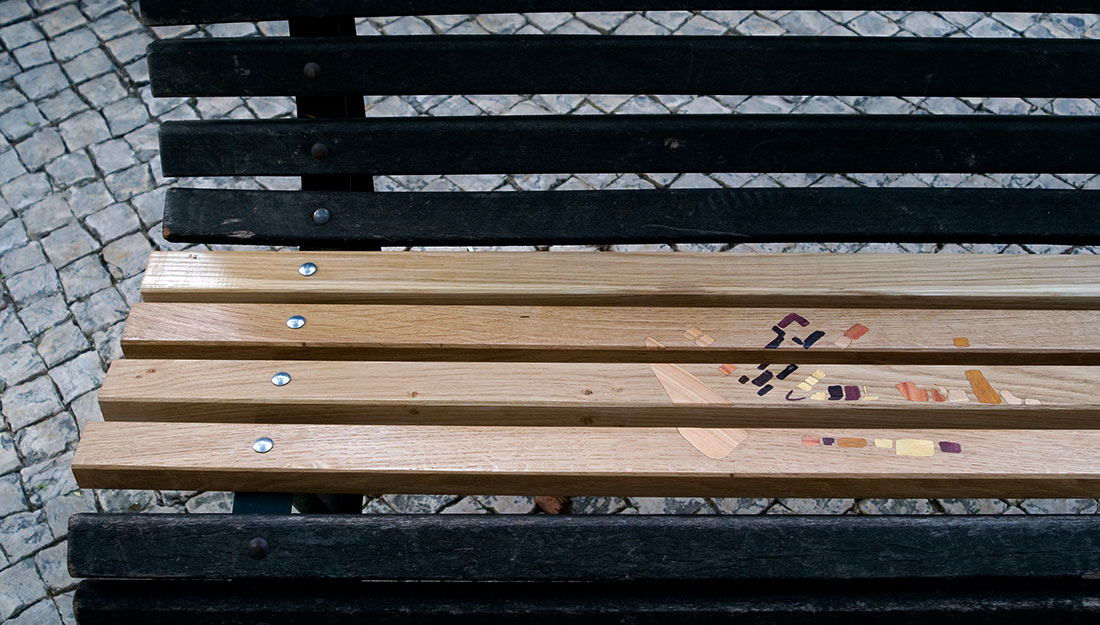 Linda Brothwell
Linda hand makes tools, objects and repairs.  She started a repair movement in the arts.   She can spend months or years immersed in the techniques, the materials and the stories of a place.
For We are Commoners she is showing 'Acts of Care: Bench Repair Project'. This is an ongoing project.  In the first version Linda worked with the Museum of Decorative Art in Lisbon, Portugal to learn traditional wooden inlay techniques and to use these to make tools and repair broken benches across the city.
Linda has been working on a new version for the city of Bristol where she lives. She has been making new bench slats inlayed with the imagery of patches and stitches, which she will use to repair benches in Bristol's parks.
Through this project Linda is getting us to think about caring for our public spaces.
Find out more
Visit Linda's website to find out a bit more about her.
Take Action
What objects need repair in your school or local community?  Take photos of things that are broken and design creative repair solutions. Research other creative approaches to repair.
What skills can your parents/grandparents teach? Can you use these new skills to repair something?
What are the traditional skills and techniques in your area? Do some research. Is there anyone still using these techniques that you can learn from?
Linda makes tools as an act of care. innovate with materials to make your own tools. e.g. make your own clay stamps and use them to decorate clay tiles. Where could you place your tiles as an act of repair?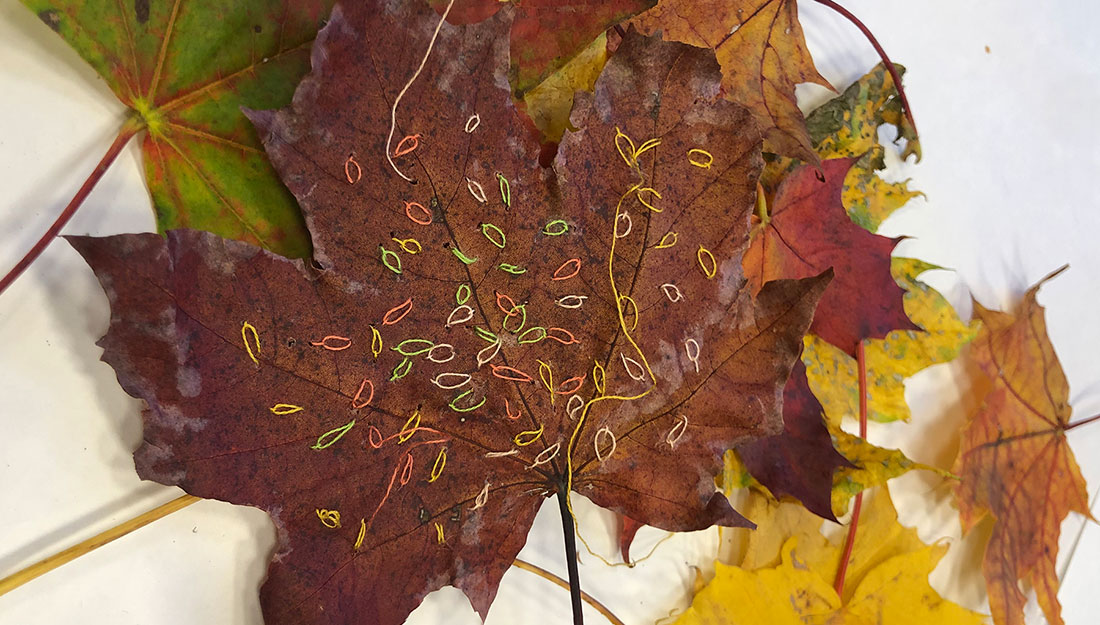 Lise Bjørne Linnert and Gelawesh Waledkhani
Lise and Gelawesh are Norwegian artists who work in a socially engaged way with people and materials
For We are Commoners they have collaborated with people affected by undocumented migration in Norway. Through drawing, making and writing workshops they have shared skills, knowledge and stories (the mobile commons). Workshops took place in different cities and participants were connected by computer screens. Some sessions took place outside.  In Spring they made brushes from twigs and leaves and in Autumn they stitched onto fallen leaves, mending them as an act of care and protest. By mending the leaves they were demonstrating how they themselves wanted to be seen and treated. The workshops created safe spaces for people who would usually be disconnected and hiding.
Find out more
Visit Lise and Gelawesh's websites to find out more about their work.
Take Action
Learn more about undocumented migrants and the people and organisations that support them.
Experiment with some of the techniques that Lise and Gelawesh used for the sessions; stitching on to leaves, making paintbrushes out of natural materials, using leaves to write words in the landscape.  Whilst making think about the skills, knowledge and stories you can share.  Making could be a good way to help children and young people process their experience over the last year.
Other things to do
Have a go at these making ideas developed for the healing theme by exhibition artist Alinah Azadeh as part of her residency.  She created them as a resource to get us through difficult times.
Create your own everyday courage badge. This activity could be adapted to suit all age ranges. Links to curriculum areas: art and design, history and PSHE.
Make a container for self-care. This activity could be adapted to suit all age ranges as part of a focus on wellbeing.
Visit the Craft in Common page to see Alinah's other activities focused on the themes of loss, connection and repair.
Key words
Care
To look after and provide for.
Inlay
To decorate (an object) with shaped pieces of contrasting material set in its surface.
Socially engaged
Artform which involves people and communities in debate, collaboration or social interaction.
Undocumented migrant
People who live in a place without permission, and the authorities have no record of them.