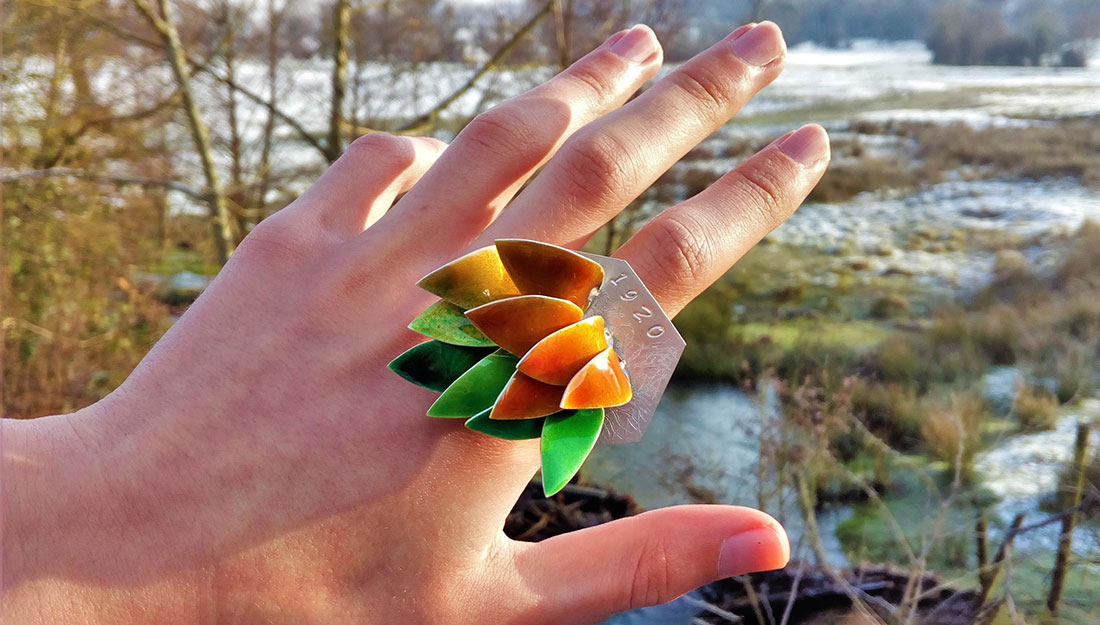 MFA Design, Jewellery & Metalwork
Sheffield Hallam University
Yuka is a Japanese jewellery designer.
Yuka's practice combines traditional jewellery techniques and experimentation with new materials. She creates her jewellery pieces using metalwork, enamelling and felt. Yuka's starting point is always the natural world around her, which she continually seeks to re-discover by exploring different processes with materials, questioning her own habits and her view of her surroundings. She also designs around the theme of biodiversity and the loss of birds on the UK Red List, which keeps track of how different species are doing and highlights those in need of urgent action. Yuka enjoys the process of working collaboratively with others and continues to develop participatory projects.
(Top row, left to right)
Rebirth
Seeds for Emergency
(Bottom row, left to right)
Pray for Reconnection II
Mosaic Habitat
Yuka Jourdain's project, Favourite Bird at Birmingham Cathedral Square, was inspired by the story of the measures taken to protect the Cathedral's stained glass windows from starlings, unintentionally making way for the long-standing resident pigeons. Yuka sees the Square as a magnet, drawing towards it the people and birds of the city centre, and invited the public to make their own bird using needle felting and other techniques, celebrating the Square's feathered inhabitants.