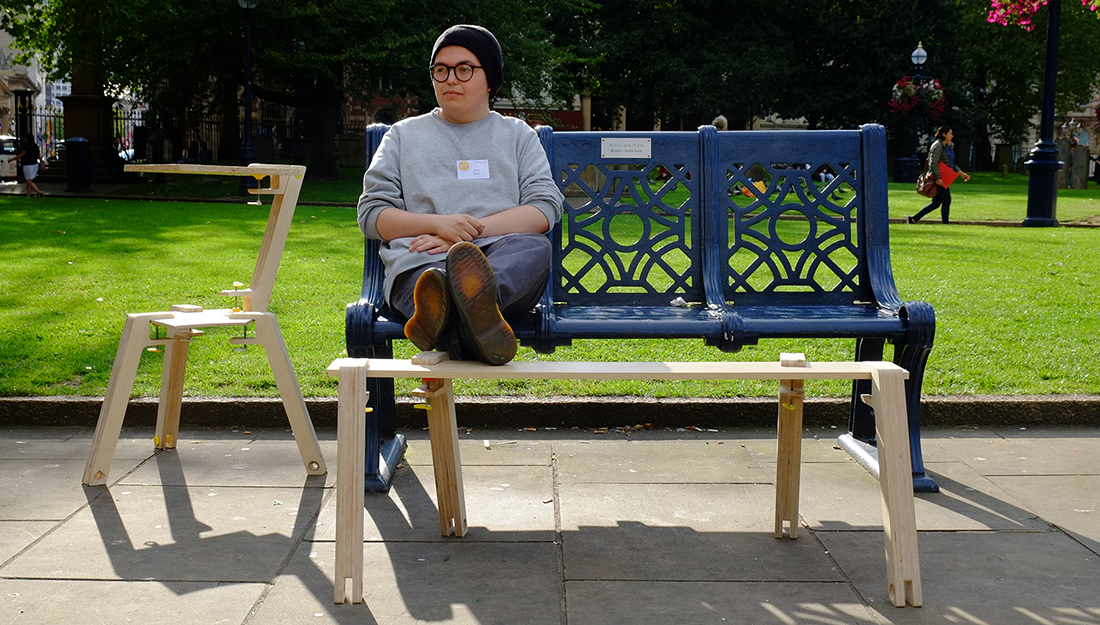 In:Site 2019
3D Design, Furniture Design
Manchester Metropolitan University

Ry Dilkes is a  designer-maker with a focus on circular design principles.
Watch Ry's video to find more about their In:Site commission and read an extract from the blog below.
Ryan graduated from Manchester Metropolitan University in 3D Design, Furniture Design. At In:Site Ryan demonstrated how to use his specially designed RE:STRUCT set that enables unused materials to become bespoke furniture or sculptures. He challenged himself to create site specific functional objects that could be used by passersby in the Square. Ryan also invited the public to make their own decisions with the materials on offer and with his help created quirky sculptures!
Since In:Site 2019
Ry continues to work as a designer. Their website describes their current practise:
A designer-maker with a focus on circular design principles. Through the joining of materials, Ry aims to give authorship back to the end user of their objects, to produce a resourceful body of work that can be reconfigured and altered to suit our ever-changing needs. In practice, making use of waste -and found- materials to create functional objects that are environmentally considered, affordable, yet also desirable.

Their work celebrates the transformative effect that processes can have on a material. Through the simplicity of cutting and joining, waste material can once again become functional, and bring together the coincidental nature of upcycling, with the utility and functionality of production design.