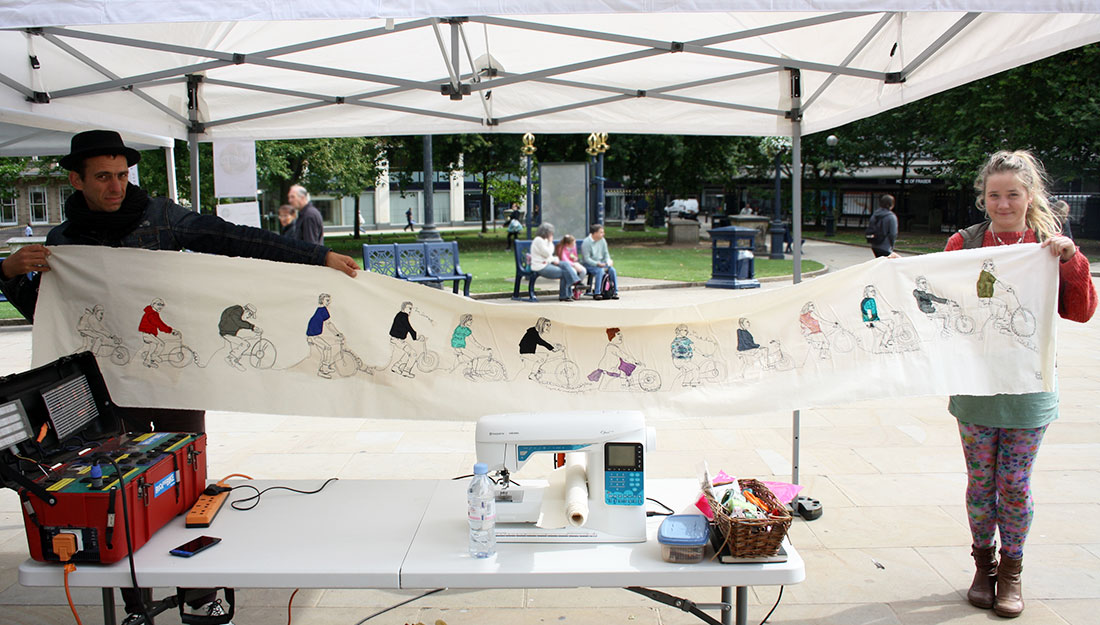 In:Site 2012 and 2013
BA Contemporary Applied Arts
University of Hertfordshire

Harriet is a textile performance artist. She was part of the very first In:Site in 2012 and was invited back in 2013 as part of our One-Year-On programme.
Watch Harriet's video to find more about their In:Site commission and read an extract from the blog below.
Craftspace and Husqvarna Viking awarded the  first One-Year-On residency  to textile artist Harriet Riddell.

Working under the name InStitchYou Harriet wowed many visitors to 2012's In:Site festival with her ability to capture people and events around her in stitching. The immediacy of embroidering with a sewing machine truly captured peoples imagination and of course she made it look so easy.
For her new residency Harriet used a pedal powered sewing machine provided by VSM Husqvarna Viking to embroider portraits of cycling participants as they told her their cycling and Birmingham stories.

As part of the residency Harriet was also mentored by textile artist Karina Thompson. With over 20 years experience of working in studio textiles, Karina is well placed to guide Harriet at this vital early stage in her career.
Husqvarna Viking and Craftspace, overall winners in the Arts and Business Award category at the Business in the Community's Awards for Excellence 2012 have enjoyed a successful and rewarding partnership for almost a decade.

"Our partnership with Craftspace takes us out of our familiar environment and introduces us to new undeveloped opportunities which have huge benefits commercially and personally." Mike Harris, Managing Director VSM UK Ltd(Husqvarna Viking)
"This partnership exemplifies how a company can successfully embed an arts and community partnership into their entire business model. The relationship between VSM (Husqvarna Viking), Craftspace and community practitioners forms a complete cycle with participants and artists feeding back directly to the business' R&D and sales."
Les Ratcliffe, Head of Community Relations, Corporate Governance & Social Responsibility, Jaguar Land Rover.

We are very grateful to Husqvarna Viking for their continued support and making this residency possible.

Harriet has since taken this project to Glastonbury Festival!
Since In:Site 2012
Harriet continues to work as a textile performance artist making observational drawings with a sewing machine, stitching stories and portraits responding to the here and now.