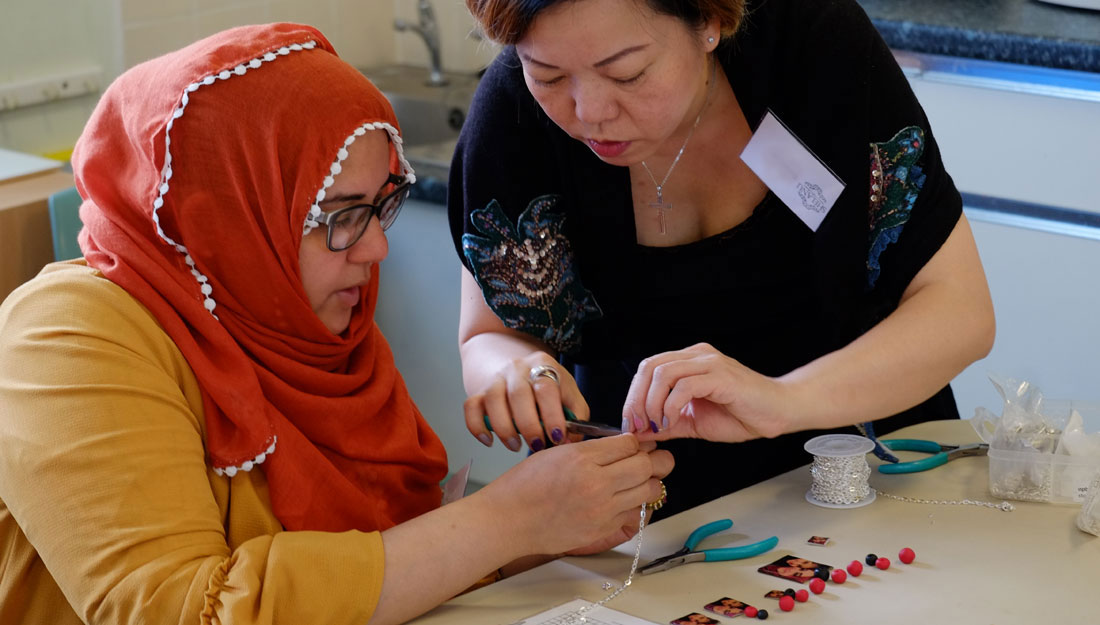 Shelanu, our women's craft collective provide practical workshops to suit a range of clients in variety of settings including galleries, community venues, festivals, outdoor events, corporate settings and online.
Shelanu offer drop-in sessions or workshops from one to three days, building up activities into small projects. Workshops are aimed towards small children (aged between 3–7) working with their families, children (aged between 8 – 12) and adults. Maximum group size is 10 children (plus their parents) or 12 adults. All workshops will be delivered at least by two Shelanu members.
Previous commissioning clients include Bilston Craft Gallery, Birmingham City Council Extended Services, Birmingham Museum and Art Gallery, Rugby Art Gallery and Museum. The group have also devised sessions for Crisis Skylight and the Refugee Council in Birmingham.
"At first I was apprehensive when we enrolled on the course. My daughter has Asperger's (high functioning Autism) and I was worried that she would not be able to concentrate. I thought that we would have to leave early, but I have been amazed at how she has been totally engrossed for the whole three days."
Workshop options
Fimo (Polymer clay) workshop
Introducing participants to a clay product which can be easily manipulated and moulded into cheerful and vibrant
pieces. Children's workshops can focus on animals while adult sessions give participants a chance to make their own
refined jewellery. The Fimo clay can be baked in an oven at the venue or later at home.
Metal animals workshop
Using aluminium, participants will be able to make a number of animals which can be decorated and made into
jewellery items or decoration for personal pieces.
Origami workshop
Devised by one of our Chinese members, this workshop is a fun way to fold paper jewellery, flowers and birds using
simple techniques.The workshop enables participants to make refined pieces in paper and also teaches them techniques that they can easily repeat at home.
Handmade jewellery workshop
Using materials to create jewellery including: coloured wire, fabric, paper, Fimo and beads. A combination of the Polymer clay and Origami workshops. Participants can create a variety of jewellery that is personal to them.
Bespoke workshops can be discussed, other possible activities include enamel jewellery, saw pierced jewellery and card making.
Booking and cost
1 full day: £250 – £300, ½ day session: £125
Workshop series: price on application
Travel costs for session outside the region are additional.
Contact Emma Daker:
[email protected]
T:0121 608 6668
www.facebook.com/ShelanuCollective
@shelanucraft