A collection of walnut and enamel jewellery designed and finished by Shelanu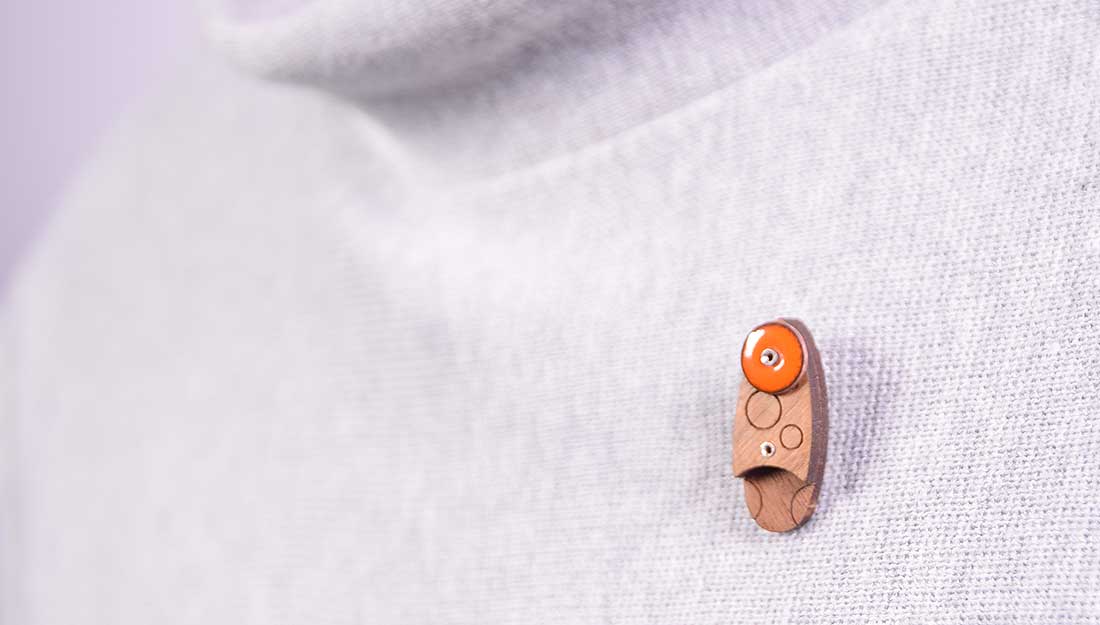 Working with artist Rachael Colley
Birmingham
2022
This sustainable collection represents Shelanu's community garden; inspired by the plants, flowers and insects remembered from the countries the members grew up in. The range is designed using affordable materials and incorporates moving elements which can help to relieve stress.
We hope that when purchasing a piece from the collection buyers are either doing so as an act of self-care; nurturing themselves by buying socially and ethically, or as caring act for someone else.
Nurture:
Care for and protect (someone or something) while they are growing. To help (something or someone) to grow, develop, or succeed.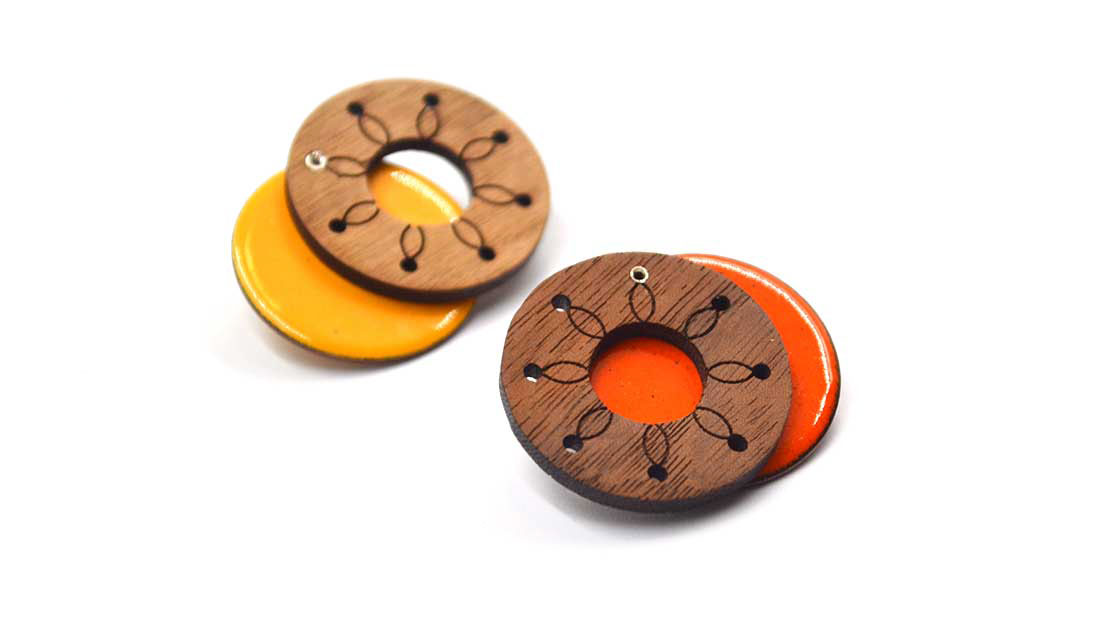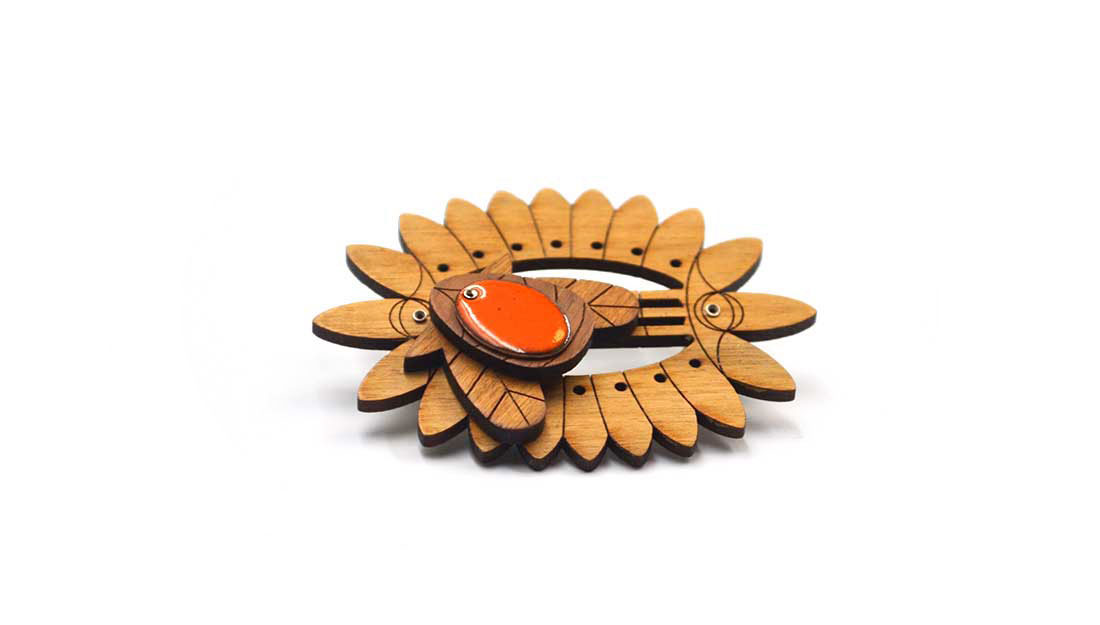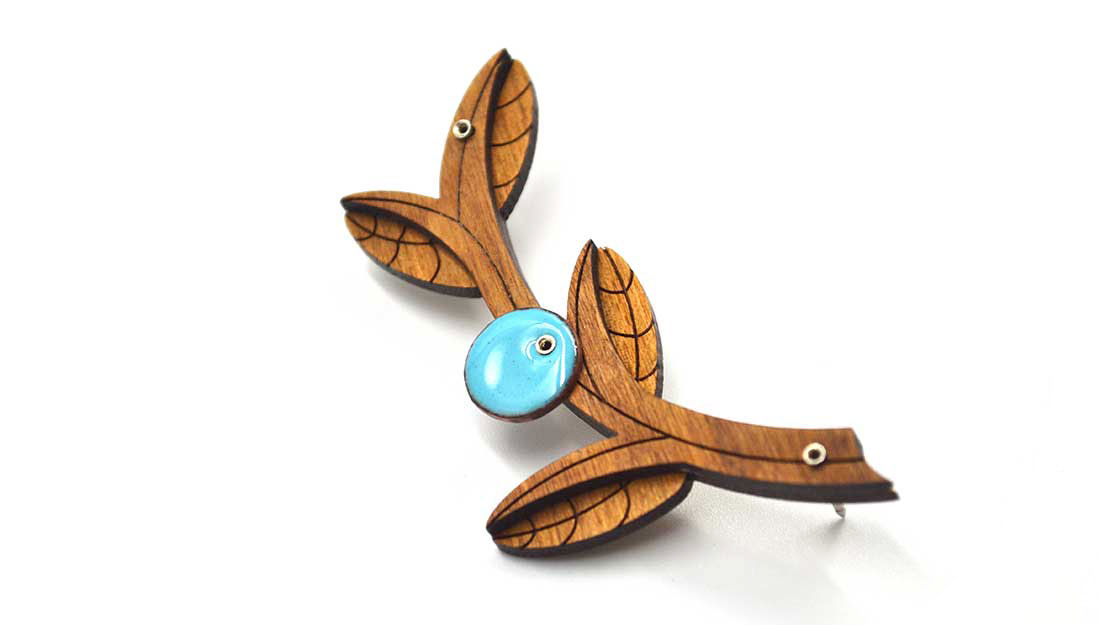 Images: Sunflower brooches, Lotus necklace, Olive Branch brooch, Bee brooches.
Development
Thinking about where they grew up, the members drew patterns from photographs of special occasions that featured food and flowers. They focussed on shapes, form and pattern. Taking elements from these drawing they developed components, which were laser cut in walnut. The final designs include references to henna, sunflowers, tulips, lotus flowers, bees, ladybirds and the Bauhinia flower, which is the floral emblem of Hong Kong.
Discussions about UK and global issues have also shaped the development of Nurture:
– Aware of the cost of living crisis, wood is the main material used instead of more traditional jewellery materials such as silver.
– Thinking about how kinetic jewellery, known as 'fidget jewellery', can ease tensions for people living with stress and anxiety the new range incorporates moving elements.
– Concerned about the climate crisis, the Collective were eager to create a range which is more sustainable and ecologically friendly than their previous collections. Our suppliers are all UK based, Birmingham based where possible. The walnut is from a sustainable supplier and whenever possible we use off-cuts. The fixings are recycled silver or stainless steel. Current packaging is made from wildflower mix seed paper.
This collection reflects how Shelanu supports member's personal development. During its creation we have welcomed three new members, all new to jewellery making. Everyone has learned new skills to add to their experience whilst continuing to develop their confidence.
The Collective will continue to develop this collection as part of Shelanu's 10 years+ anniversary celebrations in 2023.
Working with
The Nurture Collection was created with guidance and support from Birmingham-based artist Rachael Colley:
"Working collaboratively with Shelanu to develop their Nurture Collection has been such a delightful and enriching experience. Together we explored nature and were creatively inspired to work with wood, a beautiful natural material which has a compelling tactility and warm softness to the touch. Wood, although strong and steadfast, has vulnerabilities running along its grain. The jewellery pieces are made precious by highlighting this material vulnerability in their movement, requiring the wearer to take care and nurture their natural jewel.

The collections wooden components are finished with beeswax and joined using cold connections without the use of glue, meaning that each component part can be deconstructed and either recycled, repurposed, or left to biodegrade when it reaches the end of its life.

Design motifs, such as the bee and the use of beeswax in the finishing of the pieces, subtly highlights issues around declining bee populations in the UK. In this way, the Nurture collection could be seen as a form of Craftivism or 'cause' jewellery, helping draw attention to important current affairs, such as the loss of biodiversity across the world due to climate change."
"You are in an endless state of communion and infinite contemplation with other natural elements and beings. Can you see with your skin and hear with your arms? Can you think together with the air and the sun and the soil?" Michael Marder and Eduardo Navarro, 'Vegetal Transmutation', Rooted Beings, Wellcome Collection
Supporters
The project to create the Nurture collection has been supported by The Edward & Dorothy Cadbury Trust, The Arts Society, The George Fentham Trust and The Cole Charitable Trust.