Connecting communities throughout the UK
A partnership between Craftspace and AHRC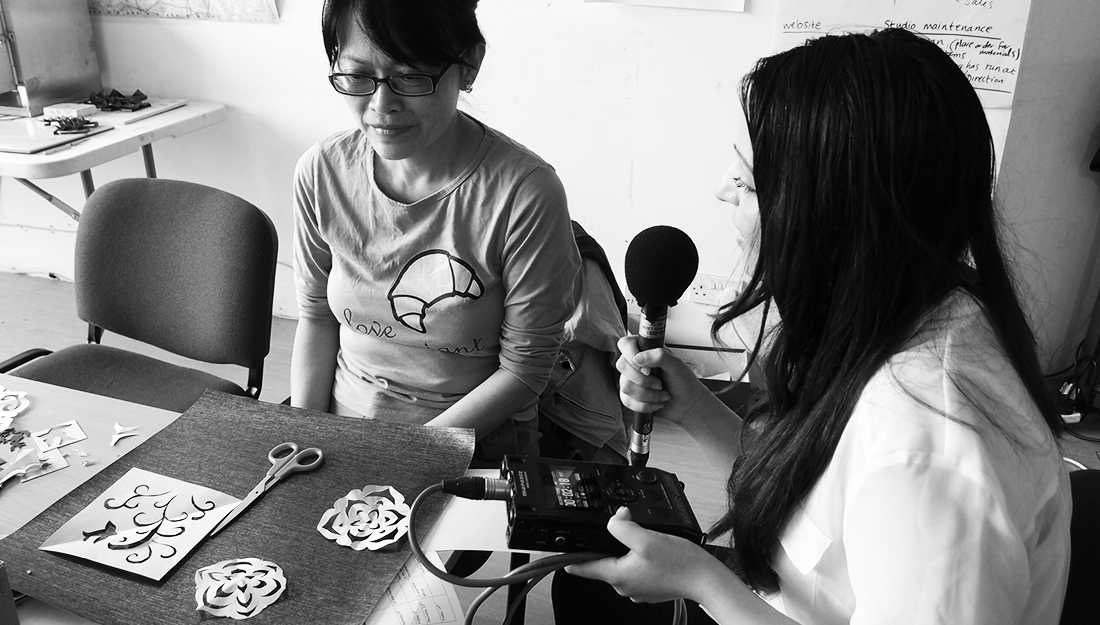 An AHRC funded Connected Communities Programme research project with Northumbria University and Falmouth University
Research project
Birmingham, Sheffield and Cornwall
Feb – Nov 2012
Find out more about the project on the blog 
here
. (no longer updated)
Background
Within the villages, towns and cities of the UK there are many brilliant community run projects – theatre groups, arts centres, allotments, museums, sports clubs, craft projects, clubs and societies. These projects are run by people with knowledge, skills and passion for their communities. This research project aimed to find a way for those people to share that knowledge, skill and passion so that they can inspire and support people in other communities, and be inspired and learn from the experiences of other people as well.
The CARM (Community Appropriated Research Model) research project proposed a framework to help this sharing to happen through creative projects and the production of audio 'podcasts'. Three community projects in Sheffield, Birmingham and Cornwall took part in the 10-month action research to try the framework out and understand what works and what doesn't work.
Project information
The project in Birmingham involved two community groups whose activities are specifically focused on craft:
Young at Heart is a self-supporting group of women aged 60+ who meet weekly at the Sheldon Community Centre in Birmingham. The group have been going for 25 years bringing women together with a specific focus on crafting for pleasure and sometimes for charity.
Shelanu is a refugee and migrant women's collective and craft social enterprise who make jewellery to sell inspired by the industrial heritage of Birmingham and their own cultures and experiences. They also facilitate creative workshops in the community.
The project focused on putting on record a 'back story' for craft and celebrating what has been achieved by two community groups in Birmingham. It was about recording local stories about craft and making that reside within places, people and the everyday. Recollecting stories and memories from childhood about crafting in families, how skills were/are handed down, types of craft activities and what people made, where materials were/ are sourced from, why making was/is an integral part of life. We also looked at why the two groups were formed, how they operate and the place that craft has in their lives now.
The two groups met to share stories and exchange practical craft skills. The practical exchange took place around paper as a focus. Kiki from Shelanu demonstrated traditional Chinese origami folding and Elsie from Young at Heart demonstrated Iris – a traditional English paper folding technique. An outcome from the project is that Shelanu have since made use of and adapted the Iris technique and are making cards to sell which is helping them make a new income stream.
To make the radio podcasts, we worked with Felix Pepler from Chatterbox Creations and his colleague Arshia Riaz, a presenter from the BBC. Arshia Riaz worked with the two groups over several sessions to devise and construct their stories and shape them into a narrative for an edited podcast. She also provided a session of media awareness to develop their knowledge about the function of community radio, how to go about telling your story and the value of sharing your story with others. The two podcasts are available to listen to below.
Arshia worked very well with the two community groups, with one member describing her as 'her long lost daughter'.
Why was the project pertinent in 2012?
Political agendas such as Big Society meant that responsibility for public services and facilities was being shifted from government to local organisations. Community groups, grass-roots organisations and charities were doing more projects and taking on more responsibility with fewer resources. The research team thought it was important that these organisations had ways to develop their own practices so that they could do more of the things that worked well and deal with challenges and problems by learning from other groups around the country.
Why community media?
Community media, particularly community radio, provides an accessible infrastructure for people to create and share their own broadcasts or podcasts. There are many community radio stations that welcome people that want to make their own programmes about local projects. Having a programme available on the website of a community radio station, or nationally on the Community Media Association archive, means that people can listen to the programme anywhere, at any time and it can be easily shared through websites, email and social media.
Working with…
The research team, Ann Light (Northumbria University), Fiona Hackney (University College Falmouth) and Katie Hill (Northumbria University) are all researchers within Design departments who are interested in how creative practices can support community development.
The project was funded by the Arts and Humanities Research Council's (AHRC) Connected Communities programme, with support from the Community Media Association.