Alternative Ways of Making
A Craftspace and Outside In touring exhibition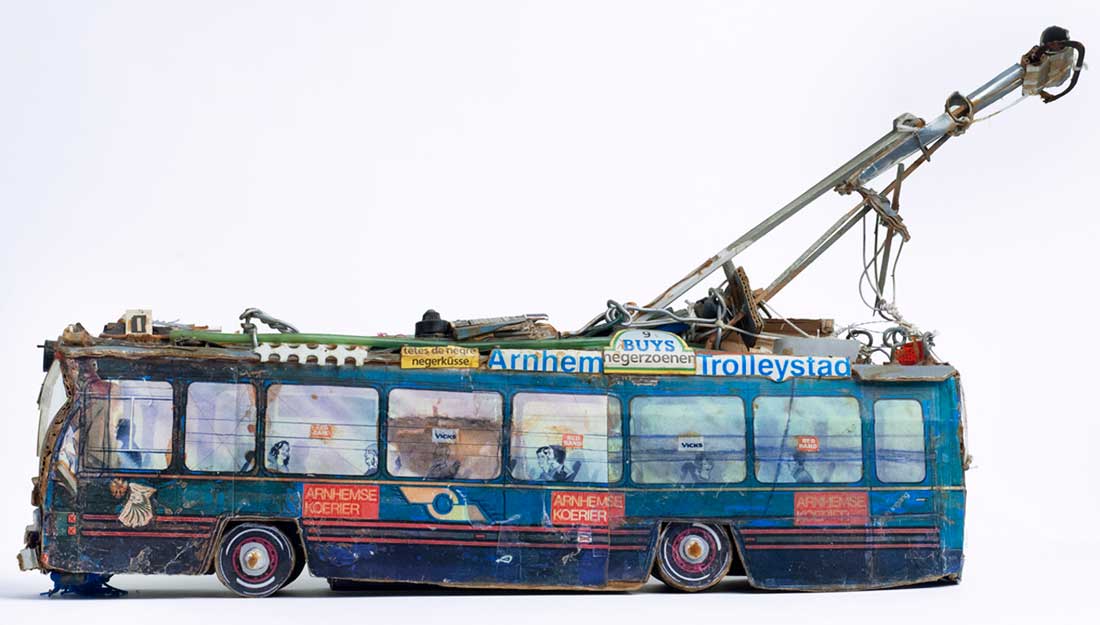 Willem van Genk – Arnhem  (Photo: Guido Suykens, Courtesy of Museum Dr Guislain Ghent)
Touring exhibition
2016 – 2017
'Unbound by convention, the outstanding and uninhibited works by the self-taught 'outsider' artists taking part in the exhibition showcase the potential of craft as a creative genre.' The Quilter, Spring 2016
'…like all shows of outsider art, this one raises many issues. Is it art or is it craft? Is some of the work better than other work and who has the right to decide? All the questions are valid, but don't let that stop you enjoying this teriffic display simply for the pleasure of seeing remarkable work made by remarkable people.' Marcus Field, review in Crafts May/June 2016
An exhibition featuring 34 international and UK artists who express their creativity beyond the bounds of convention. The exhibition toured to eight venues around the UK.
The exhibition, which was co-curated by Laura Hamilton, showcased artworks by historically renowned artists associated with Outsider Art and contemporary artists some of whom are self-taught and all of whom see themselves as facing barriers to the art world for reasons including health, disability, social circumstance or isolation. For UK artists, an open callout was made and many artists were discovered during a national series of Surgery Days managed by Outside In. Over half the artists in the exhibition are associated with specialist centres, groups and studios who play a vital role in nurturing and supporting their creative development.
Themes in the exhibition include radical missions in which artists have a passion for a particular subject or technique; intuitive responses to textiles employed as a non-verbal means of engaging with the outside world; autobiographical responses to the natural or urban environment; and folkloric or surreal perceptions of the world. Each of the artists' individual backgrounds and paths of creative development occupy a different world to our more typical perception of the artist or craftsman. Most have never received any formal art training, although their practices may have been nurtured and encouraged in specialist centres or studios. Their work or creative impulses have been developed with independence, perceptual senses and an obvious lack of inhibition which is rarely aimed at a particular audience or marketplace. The artworks convey personal visions of the world, reveal inventive use of materials and vary in scale. From miniature sculptures carved into toothpicks and lead pencil tips, to vehicles made from recycled scrap, and from life size woven birch bark figures to a bridal headdress made from wrapped and embellished fabric.
Images: Joanne B Kaar – Grass Boot Replica after Angus McPhee,  Terence Wilde – Embodiments (Anthony Woods-McLean), JuliaKrause-Harder – Argentinosaurus (Atelier Goldstein), Pascal Tassini – Untitled (Muriel Thies, Courtesy of Creahm Liege), Pinkie Maclure – Landfill Tantrum (Pinkie Maclure), Joanna Simpson – Good Luck Gum Nut Folk (Oana Damir)
Artists
The exhibition featured 34 international artists, including:
Dalton M Ghetti (USA) is a carpenter who began sculpting forms on discarded pencils in 1986, as a challenge to himself to create the smallest possible carvings that he could see with the naked eye. Each piece can take up to a year to complete. For Dalton, carving is a form of meditation and none of his work is for sale.
Roland Kappel (Germany) grew up in an orphanage. His true passion is machinery used in the construction industry: diggers, cranes, bulldozers. His models utilise discarded parts from calculators and computer boards as well as scrap metal, which he fixes to together with a special spot-welding technique which he developed.
Pascal Tassini (Belgium) has a special interest in weddings and bridal attire producing a complete environment including a wedding tent, rings, love letters and elaborate Baroque-style headdresses.
Beth Hopkins (UK) employs found objects, often washed up from the Thames, and parts of discarded electrical gadgets. She finds it "empowering to reduce items down to their components; taking back the power digital life has over us all."
Angus McPhee (Scotland) secretly wove numerous garments from grasses, vegetation and sheep's wool picked from barbed wire fences found in the grounds of the hospital he lived in.
Erkki Pekkarinen's (Finland) folkloric life size woven birch bark figures.
Find out much more on the Radical Craft Artists page and buy the catalogue in the shop.
Award
Exhibiting invited artist Marie-Rose Lortet will choose one Award Winner from the selected works to receive a solo show at Pallant House Gallery at a later date. Lortet is often associated with the field of outsider art, and her signature lace objects and architectural constructions have been exhibited widely across Europe and are in the Collection de L'Art Brut in Lausanne, Switzerland, and will this year be shown at the Outsider Art Fair in New York for the first time.
"I am proud and grateful to be chosen as the judge. I am excited to look attentively at the artists' creations and what the work reveals about their life. It will be a hard choice without a doubt." Marie-Rose Lortet
Panel
The panel for the UK open selection included Alice Kettle, Textile Artist; Phil Baird, Artist and Outside In Award Winner; Laura Hamilton, Co-curator of Radical Craft; Katy Norris, Curator Pallant House Gallery and Deirdre Figueiredo, Director of Craftspace.
"The exhibition communicates the dynamic of living and making, of using transformative potential of craft to enter other visionary worlds…craft becomes a process of resistance and method of adaptation. " Alice Kettle, artist and part of the panel of selectors for the UK open section.
Action Research
For this exhibition, we also collaborated with ActionSpace, which supports artists with learning disabilities, to create a residency for Andrew Omoding. We commissioned social anthropologist Trevor Marchand to acquire an understanding of his creative practice through study and observation for one day a week over a period of 8 weeks. A documentary film and an essay provide insights into Omoding's drive to make and he is also represented in the exhibition by two artworks.
You can see read more including a diary of the project and watch the film here.
You can also read a great post about the project in the Outside In blog…
30 years
This exhibition marks key anniversaries for the partner organisations;  30 years of Craftspace and 10 years of Outside In.
Working with…
Outside In has provided an increasingly international platform for artists who find it difficult to access the art world because of health, disability or social circumstance. Artists applied for the open section of Radical Craft through their website and they held support sessions to assist this process.
Outside in are based at Pallant House Gallery. They are the launch venue for the tour. Pallant House Gallery is a unique combination of an historic Queen Anne townhouse and contemporary extensions, housing one of the best collections of Modern British art in the country, including important works by Peter Blake, Lucian Freud, Eduardo Paolozzi and Graham Sutherland.
Funding
Principal funder Arts Council England West Midlands. Other funders include; The Daiwa Anglo-Japanese Foundation and Great British Sasakawa Foundation. We are also grateful to our core revenue funders; Outside In to the Esmée Fairbairn Foundation, The Roddick Foundation, The George Dannatt Trust and Private Donors and Craftspace to Arts Council England West Midlands.