A Craftspace and Outside In touring exhibition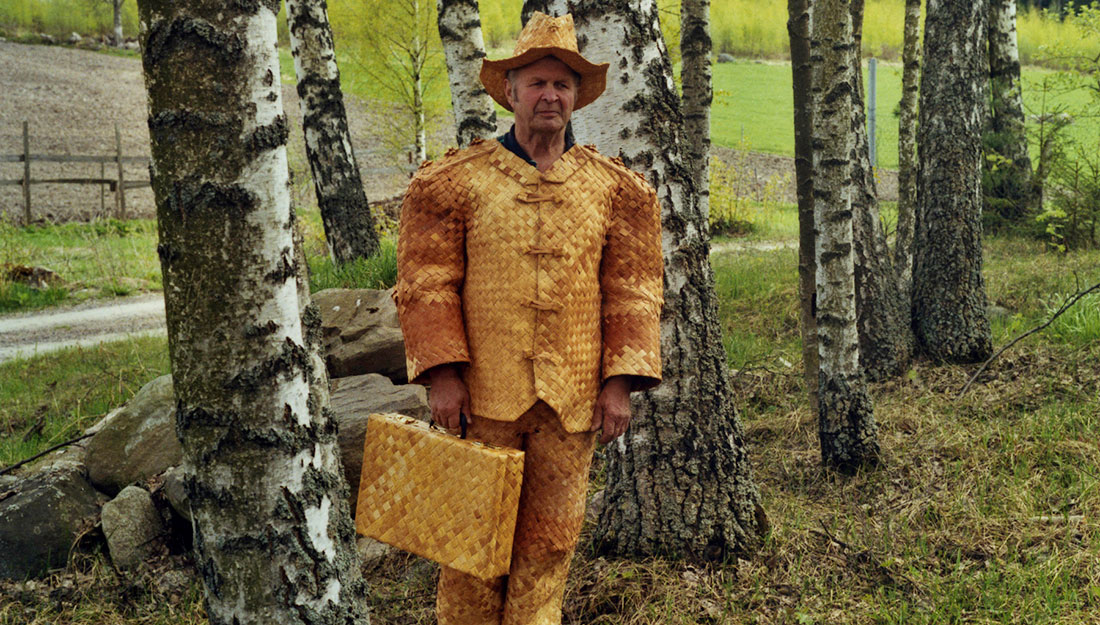 Birch Bark Suit, Erkki Pekkarinen  (Photo: VeliGranö)
National Touring Exhibition
2016 – 2017
The exhibition, which was co-curated by Laura Hamilton, showcased artworks by historically renowned artists associated with Outsider Art and contemporary artists some of whom are self-taught and all of whom see themselves as facing barriers to the art world for reasons including health, disability, social circumstance or isolation.
Find out more about the exhibition and the ideas behind it here. 
There were thirty-four exhibitors in Radical Craft: Alternative Ways of Making. The works were grouped into four themes in the exhibition: Historical Work, Cultural Roots, Intuitive Textiles and Radical Missions. Click on the artist's name to see images and captions of their work.
Work by 3 artists who are no longer alive and were strongly associated with the Outsider Art genre. Their work is well documented and represented in museum and/or private collections.
Willem van Genk
1927-2005
Belgium
Presikhaaf, trolleybus
Arnhem, trolleybus
Mixed media
Collection: Museum Dr. Guislain, Ghent
Willem was a painter but from 1988, only made models of vehicles. On account of his passion for trains, buses and train stations, he called himself "King of Stations". These ramshackle trolleybuses were originally part of 'The Arnhem Trolleybus Station', a large installation which he kept in his living room. They encapsulate the flavour of the originals yet rarely include passengers.
Angus McPhee
1916–1997
UK
These hats and boots are replicas of some of the garments made by Angus McPhee during his residence at Craig Dunain hospital. They were commissioned from Scottish weaver, Joanne B. Kaar since the originals are now very fragile. Made from knitted grasses, they reference, and illustrate, a very radical approach to a craft practiced on Uist; to make rope and horses' bridles.
Joanne B Kaar
Pair of knitted boots, 2015
Grass
Commissioned by Craftspace
Joanne B Kaar
Oslo stitch hat, 2015
Blue iris leaves
Lender: The artist
Joanne B Kaar
Coppergate stitch hat, 2015
Soft rush
Lender: The artist
Judith Scott
1943–2005
USA
Untitled, 1990
Yarn
Lender: Musgrave Kinley Outsider Art Collection
The Whitworth, The University of Manchester
Inspired by a fibre class at the Creative Growth Arts Center in California Judith began to meticulously wrap found objects in carefully selected lengths of knotted cloth and yarn. Some resembled cocoons and others, body parts. Many contained hidden objects gathered from the studio. None of the 200 pieces created over a period of 18 years, incorporated the same shape or colour scheme.
An autobiographical focus informs the artists' practice. From the environment in which they have grown up or now work, to experiences that have had a lasting impact on their interests and perspectives.
Utilising textiles to engage with the outside world; particularly for artists without speech, or simply as a way to celebrate texture and colour.
A passion for a particular subject or the drive to work with or hone a particular technique.