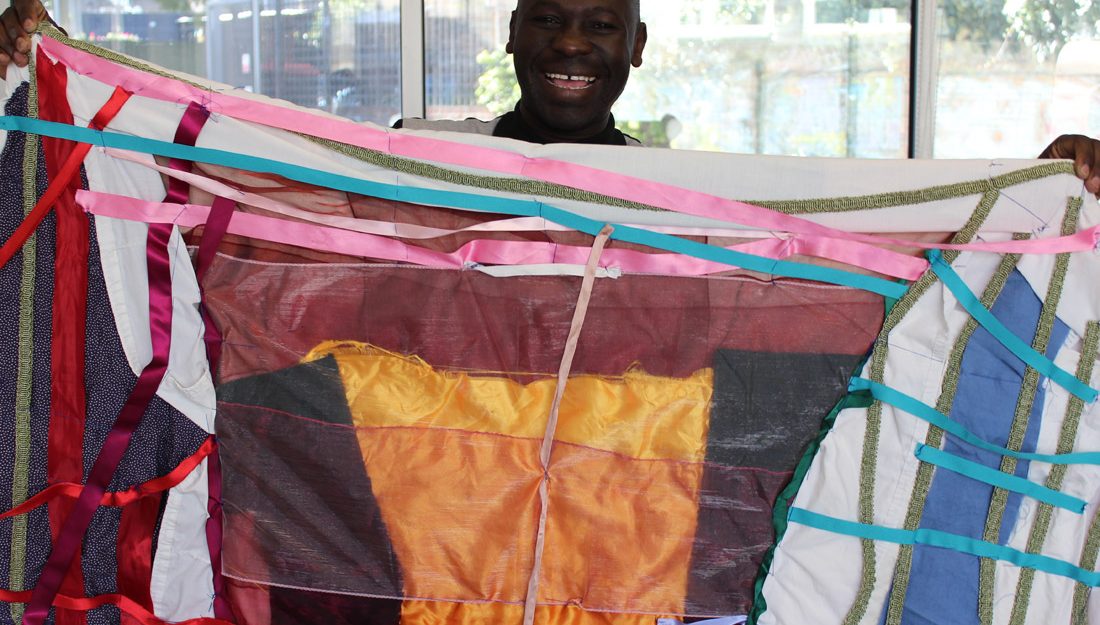 Andrew Omoding. Photo: Trevor H J Marchand
"While engrossed in making, Andrew lacked inhibition. He strove for the pleasure of the work, not some ideal perfection. These attitudes can't be explained away as mere conditions of Andrew's 'disability', rather they constitute his tremendous 'ability'. The productivity of so many creative people is often disabled by tendencies to dwell for too long on the ideas, to become lost in the planning and preparation. There's a great deal to learn from Andrew's example." Trevor H.J. Marchand
Initiated by Craftspace, 'Explorations in Creativity', was an action research project to create a critical framework for the appreciation of work by an ActionSpace artist. ActionSpace supports the development of artists with learning disabilities.
Social anthropologist Trevor Marchand was commissioned to acquire a holistic understanding of and insight into artist Andrew Omoding's creative practice through study, observation and documentation. We were keen to explore what we could learn from Andrew's creative process and how this might contribute to thinking and knowledge about craft and making.
Action research projects are an intrinsic element of Craftspace exhibitions. These projects enable questioning and investigation of the theme in collaboration with an identified partner during the research and development phase of the exhibition.
For Radical Craft, Craftspace collaborated with ActionSpace to organise an action research project focused on the practice of one of their studio artists. Andrew Omoding is a twenty-eight year old Ugandan-British artist living in London. The objective was to explore how Andrew's work might change if he were given a larger space to work in and dedicated studio time outside of the regular weekly group sessions at ActionSpace. The residency would provide Andrew with more time, a large space to himself and the opportunity to experiment with a wider range of materials; in short, the opportunity to work as a professional artist.
Craftspace invited Trevor Marchand, a social anthropologist, to observe, record and analyse Andrew's making processes at a studio selected for the residency. The aim was to gain deeper understanding of the conceptual and tactile creative methods adopted and developed by Andrew. The residency was documented throughout by Trevor; who wrote a catalogue essay and produced a short film from his many hours of video footage and thousands of photographs.
The eight weekly sessions, culminated in an exhibition at ActionSpace, which was attended by Andrew's family, ActionSpace artists and staff, Trevor, Emma from Craftspace  and Laura Hamilton, co-curator of Radical Craft.
The results of the research were on show in the Radical Craft exhibition which toured venue in the UK 2016-17.
All photographs are by Trevor H. J. Marchand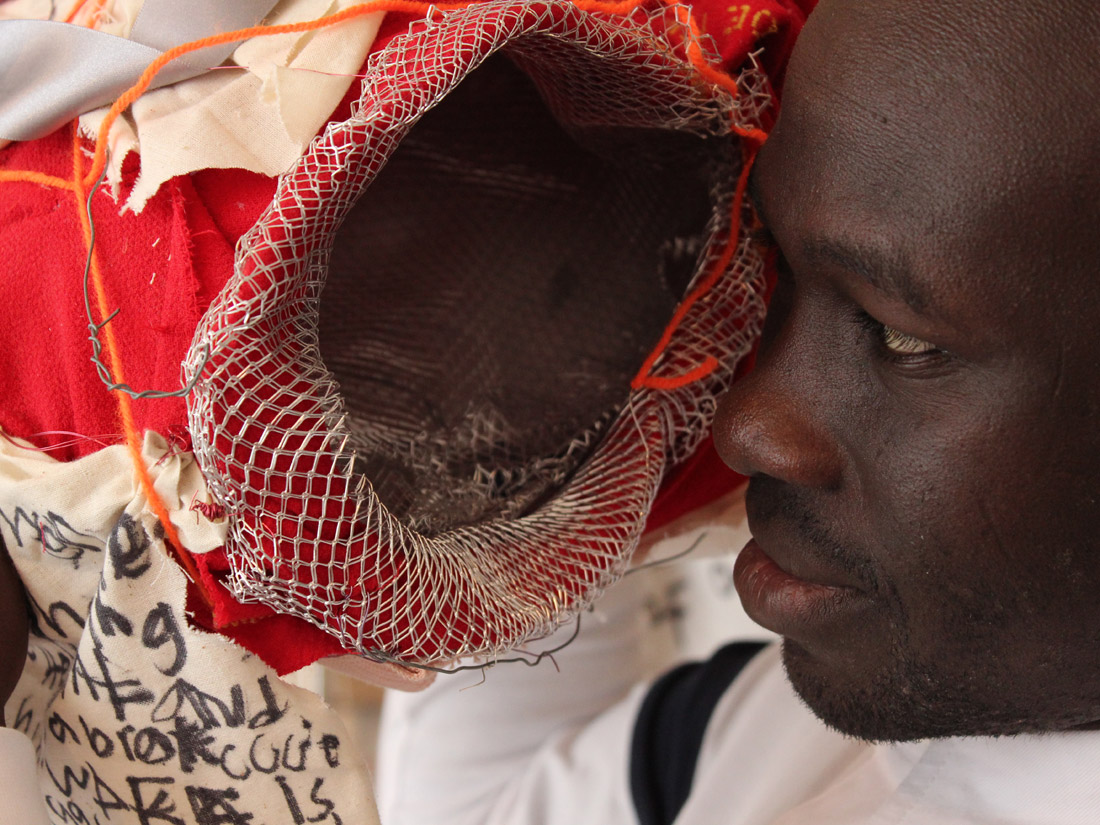 Week 1
The aim of the first session was for Trevor to establish trust with Andrew and to explore how, together, they would generate a productive working relationship. Sheryll, Co-Director of ActionSpace, settled Andrew in the studio with Trevor and then left them to work together for the remainder of the day.
Andrew started work on an ambitious large scale piece, larger than any work he had created before. From this first meeting Trevor observed that Andrew appeared to be far less concerned with the end product than with his immediate engagement in the process. It was also clear to Trevor that Andrew enjoyed teaching while creating his work, as he provided short explanations of what he was doing and encouraged Trevor to give stitching a try.
In summation of the day Trevor noted that: "My observations from today invite a rethinking of creative work and consideration of the power of being uninhibited – a valuable lesson for all artists and creative makers!"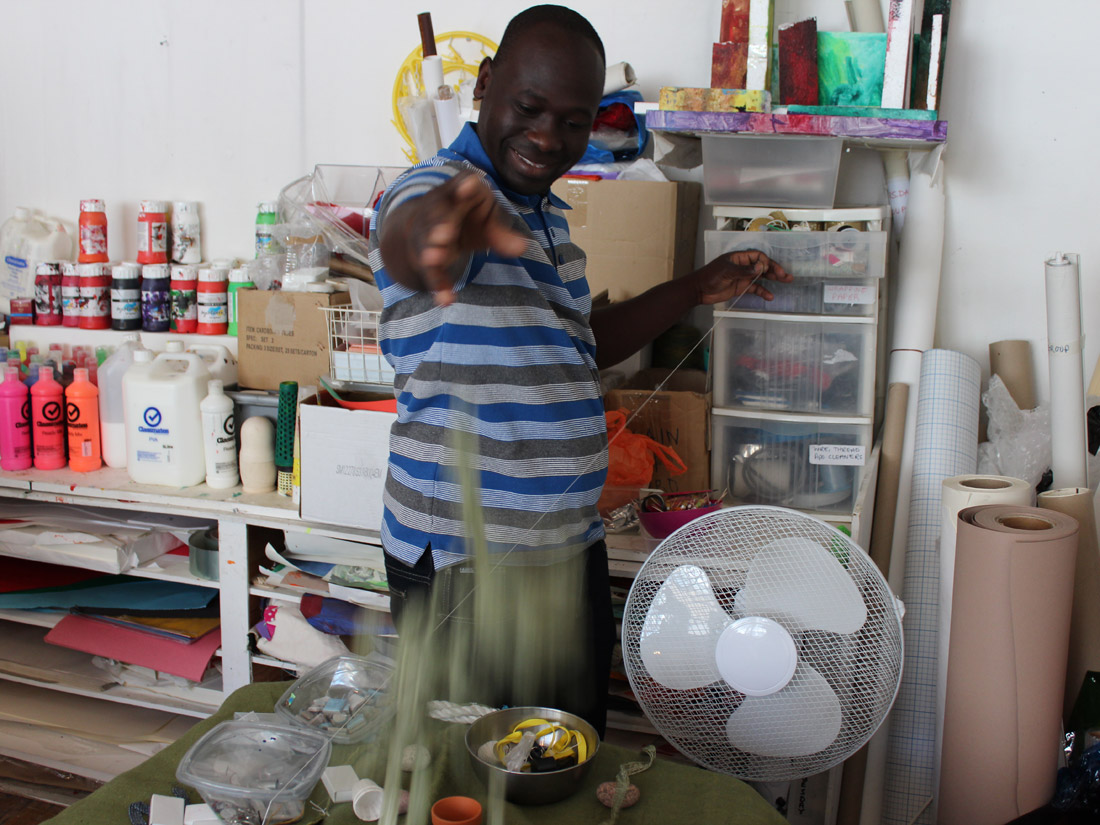 Week 2
In the second week Andrew continued to work on his large piece which was spread across two tables. As other studio artists arrived, he moved into the corridor to gain more space. Trevor noted that although Andrew is highly sociable, he values opportunities to create, over those to socialise with fellow studio artists and was therefore happy to continue working in the corridor.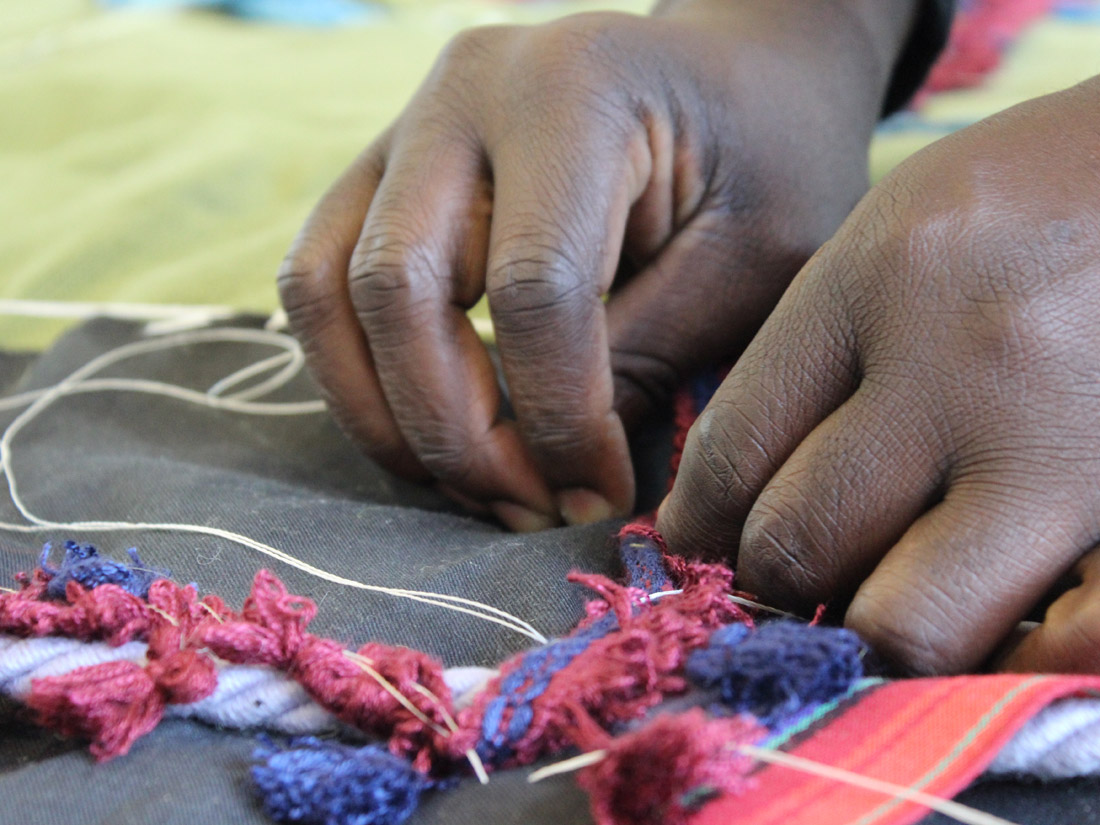 Week 3
Because one of the key project aims was for Andrew to have the chance to create large-scale works, he and Trevor moved into a new studio space at ACAVA, an educational charity that promotes visual arts services and development. Lisa, an Artist Facilitator from ActionSpace who has worked with Andrew for a number of years, also attended this first session at ACAVA in order to support Andrew in the unfamiliar space.
Andrew worked on his large piece, adding new materials and bobbles; and by the end of the day he had assembled a white canvas on which he would create one of his books that would accompany the central piece, which he describes as "table for people eating".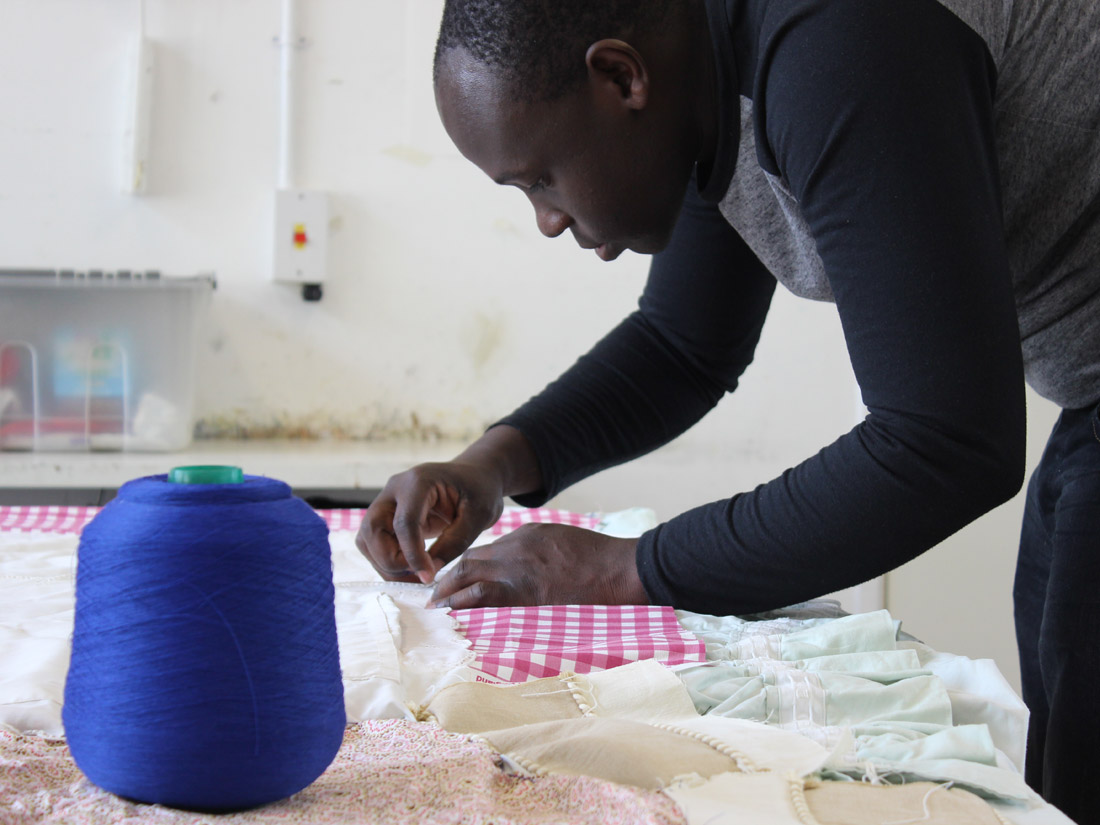 Week 4
This was the first session away from ActionSpace without Lisa's support.
Trevor observed that Andrew spoke more regularly and with greater ease with each successive session and that his conceptual thinking about his project was becoming increasingly articulated: "As the work takes shape, a clearer concept of its form and meaning is emerging, which to some extent guides Andrew's immersion in doing."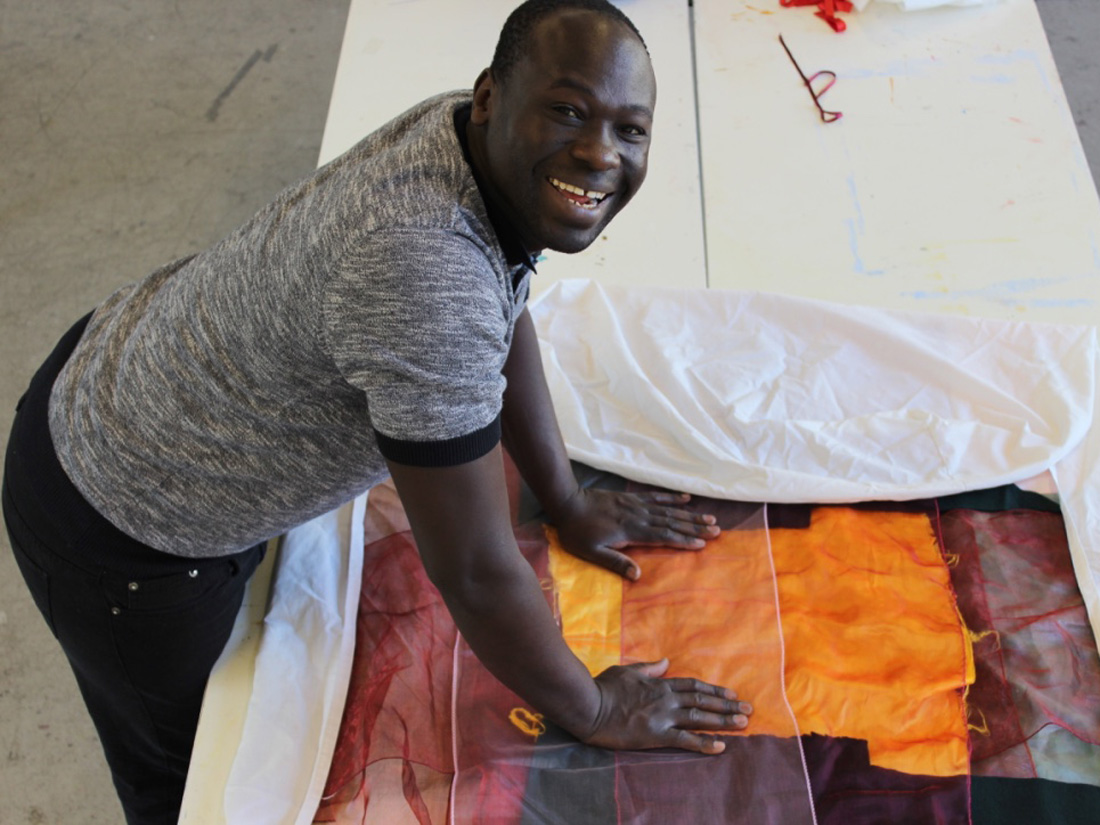 Week 5
In the fifth session Andrew began work on a new component for the main piece. He was scheduled to start working on text for a book accompanying 'Table for people eating'; however the donation of a carrier bag of colourful fabric prompted Andrew to begin another 'canvas'. He later declared that this was a 'flag' for the house where the people are eating.
Trevor observed that Andrew's problem solving unfolds in his physical work, "A house with no flag" was a "problem" for Andrew; so he created a flag. After this session Trevor noted that "materials are the driving force behind his making".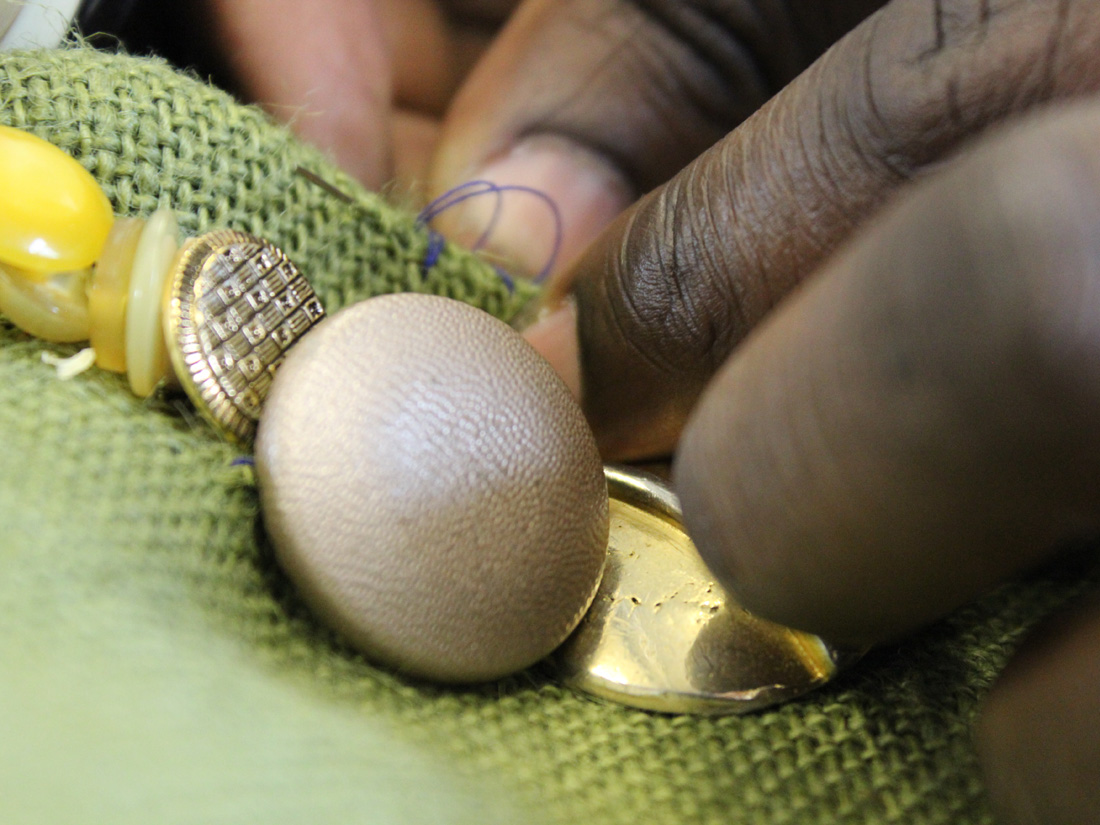 Week 6
Andrew put story writing off for another week and instead continued adding layers and various decorative elements to his works. Andrew pays particular attention to the colours and textures that he adds, and to the balanced compositions of his works. By this session Trevor noted the recurrence of themes around issues of protection, happiness and comfort. An example of this is shown through the interactive elements Andrew creates, such as pockets into which Andrew wants people to put their hands to feel soft textures and cosy spaces. The meanings he ascribes to the shapes, objects and textures in his work also show these themes: for example, the ropes are people, recessed lighting fixtures become windows for the people to see the sunshine, and other moveable elements supply a source of water for those eating at the table.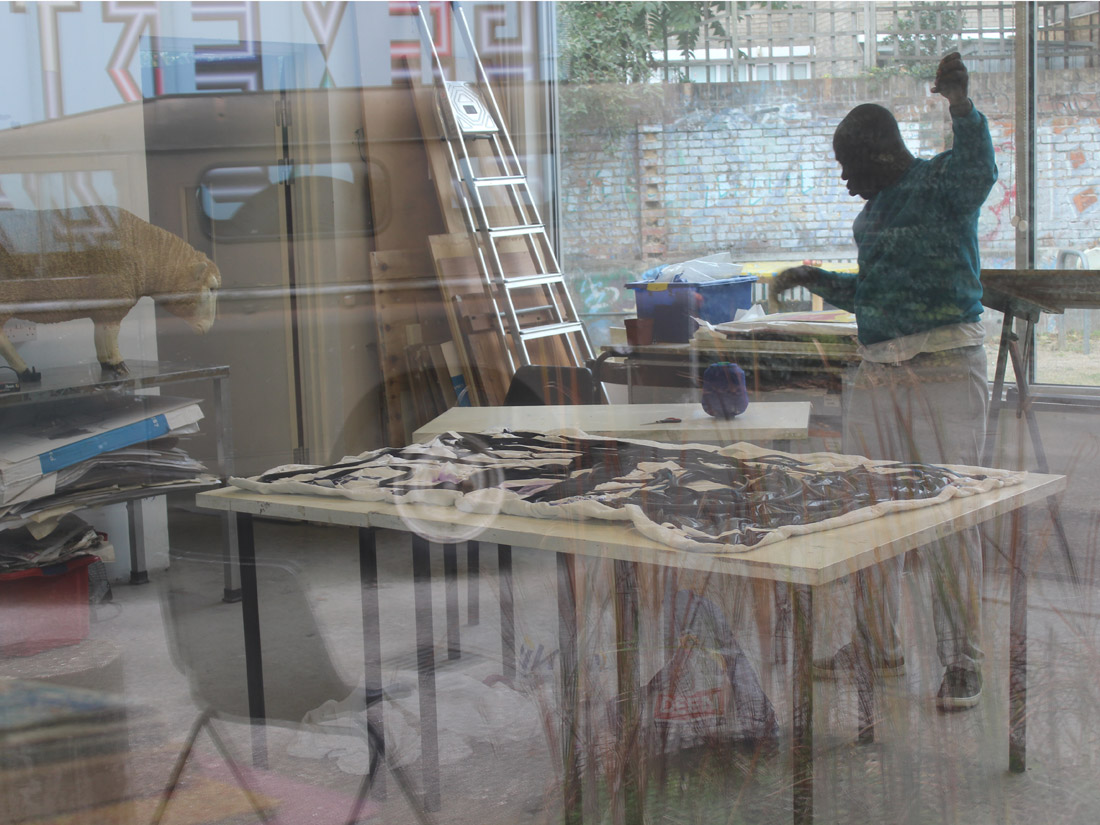 Week 7
A fresh supply of materials inspired Andrew to work on a new piece this week, entitled 'Snakes Sleeping'. He decided that this piece was unrelated to the previous works he had been making. Andrew's approach to making with the new materials reinforced some of Trevor's observations about his creative processes. Over the weeks, evidence has emerged that Andrew has been influenced by his auntie's attitude that 'nothing should be wasted' and his grandmother's oral story telling in Uganda. Themes of home and Africa run through everything he creates.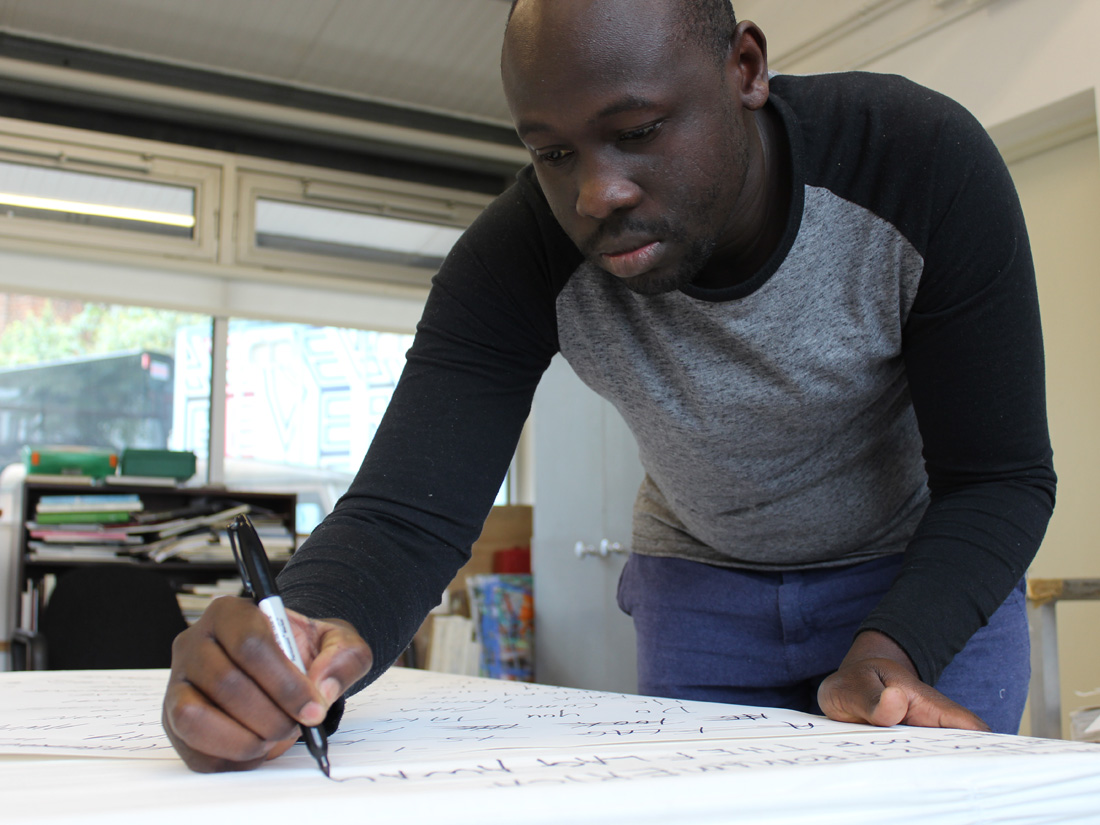 Week 8
In the final session Andrew dictated four stories to Trevor, which Trevor transcribed by hand in block-letter print on large pieces of paper. Andrew then copied the stories in black marker onto a white fitted bed sheet, systematically scratching out each letter on the paper after having written it out on the sheet. Andrew's stories are not stories in the conventional sense but instead the statements variously represent (disjointed) events; conversations between family members and wishes to go on holiday (to Africa), visit places, win money, sing, eat and be merry. Like his textile pieces, Andrew carefully arranges the letters on the surface of his canvas. The overall composition is as, if not more, important to him than communicating a specific story. 'Books' and stories play a part in many of Andrew's artworks in the case of the 'Table' they appear to supply comfort and security for the family members contained in the piece.
Trevor noted that Andrew had grown increasingly talkative, and is very comfortable with chatting and singing to the radio, having brief conversations and forming short sentences. This last session also reinforced Trevor's thinking that Andrew has a strong sense of spatial awareness.
The residency at ACAVA concluded with an exhibition of Andrew's new works in a gallery in the Cockpit Arts building, where ActionSpace is located:
I was thrilled to attend the sharing of Andrew's work at ActionSpace. He had been so prolific over the eight sessions with Trevor, there was so much to see. They had built up a clear rapport and the work Andrew created was stunning and represented so many interesting themes and stories. I look forward to seeing the film of the residency which will explore Andrew's artistic process in the exhibition when it launches.
Emma Daker, Exhibitions & Project Development Manager, Craftspace
A blog post about the project can be found on the ActionSpace website.
In the exhibition
Works by Andrew can be seen alongside the film of his making process, created by Trevor, in the Radical Craft: Alternative Ways of Making exhibition. Trevor has also written an essay for the Radical Craft catalogue.