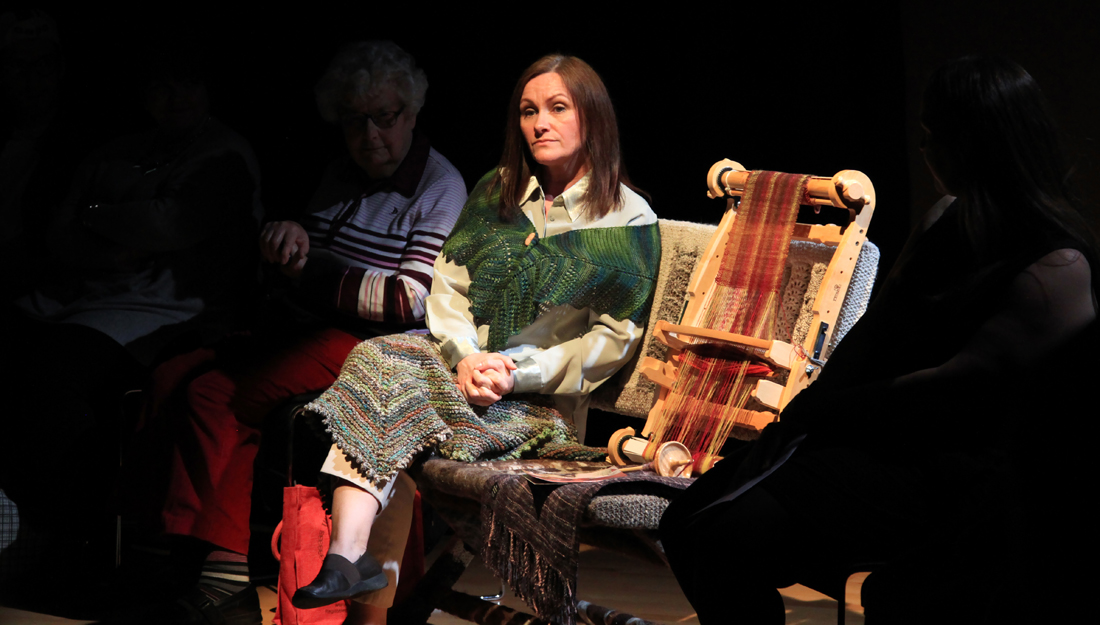 Yarning (Photo: Nick Hynan)
Working in partnership…
Craftspace is based in Birmingham and we do not have our own venue. We work in partnership with a range of galleries, museums, community venues and organisations to develop and deliver our programme.
We have a 30 year track record of building relationships between artists, people and organisations. Each project is bespoke to enable the development of shared aspirations and make the most of particular circumstances. Artists, participants and partners are involved in planning, research, development, documentation and reflection. We build relationships between artists, people and organisations and encourage the sharing of skills and knowledge.
The majority of our work is targeted at communities experiencing disadvantage, marginalisation or impoverished aspiration and we research and identify voluntary and third sector partners as a route to targeting participants.
We work with corporate businesses and partner them to meet their corporate social responsibility objectives and/or develop their workforce. We seek mutually beneficial long term relationships. Craftspace and business partner VSM (UK) Ltd have won four and been shortlisted for two Arts & Business regional and national awards.
… with Communities
Our partnerships with community organisations provide opportunities to work collaboratively with professional artists. We enable people of all ages to access creative processes for enjoyment, for learning and as a tool for personal and skills development.
We believe in giving creative control to the learner or participant, with Craftspace acting as a facilitator, working in partnership with organisations who also value the creative process of individuals.
… with artists
Opportunities to get involved in our projects and exhibitions are listed here.
To be sent opportunities by email, including opportunities for makers from other organisations, please join our mailing list.
Our touring exhibitions enable artists to develop new work, raise their profile nationally and provide opportunities to sell work. Projects linked to exhibitions offer artists an opportunity to experiment and push the boundaries of their practice.
Our education and community projects allow artists to explore making processes and engage with diverse people. These residencies offer artists new perspectives on their work through collaboration.
We broker partnerships in a wide range of settings, which offer artists new markets for their work.
Our work provides opportunities for research, development and training.
…with businesses
Our work provides opportunities for research, development and training.
We work with business in bespoke partnerships that bring mutual benefits.
We work closely with companies to devise projects that will enhance their brand and identity. A partnership with us enables a company to reach new customers for products and services.
We provide opportunities for staff to engage with creative processes and we link business with artists to achieve social impact in the community.