Calling all stitchers, makers, hackers, and embroiderers!
Free online stitching project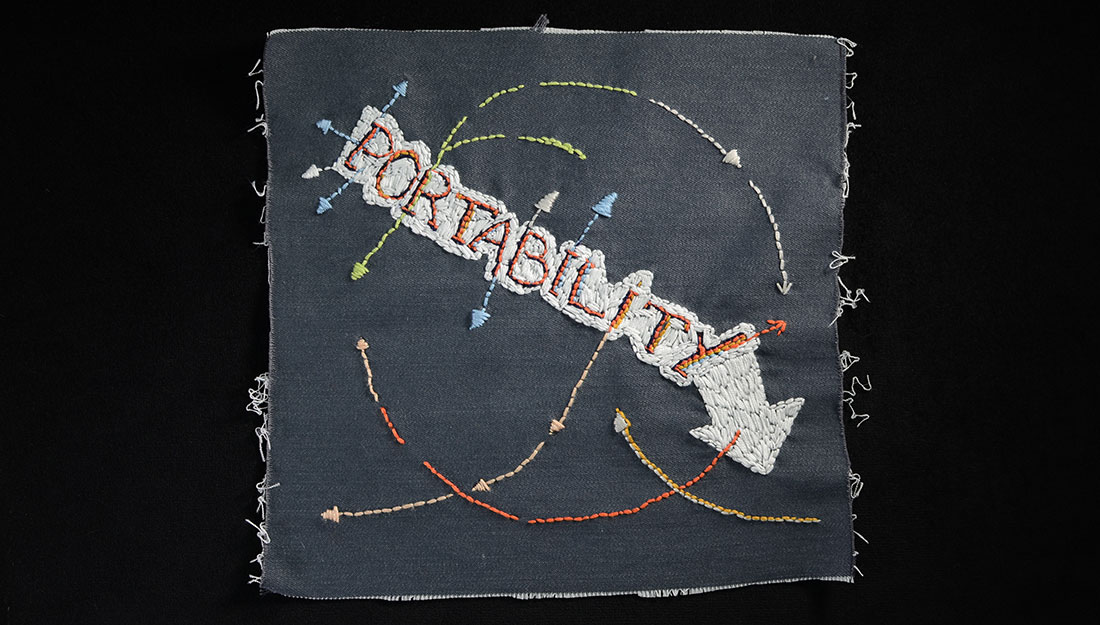 Embroidered Digital Commons
Book your place at our free online stitching events now. Deadline for registration: 30 October 2020.
Are you an embroiderer or coder based in Birmingham?
Join artist Ele Carpenter to create a collective artwork which will be displayed in We Are Commoners, a national touring exhibition, launching next year (2021). You will be stitching part of the term 'Portability' for the Embroidered Digital Commons
What is the Embroidered Digital Commons?
'Embroidered Digital Commons' is based on the beautifully crafted and poetic language of the Concise Lexicon of/for the Digital Commons written by the Raqs Media Collective in 2003. Over the last ten years participants around the world have been stitching 26 terms within this vocabulary, led by Ele Carpenter.
Portability is one out of 26 terms in the Embroidered Digital Commons project. Each participant will stitch a few words of the term which has been divided by Ele . You can read the term here: https://www.embroidereddigitalcommons.net/#/portability/
What's involved?
Introductory Talk & Workshop with Ele Carpenter
11 November, 6 – 7pm
During a Zoom session you will be introduced to the project, the other people taking part and chat about collective making: in code, textiles and digital culture. At this workshop you'll begin to design and stitch your contribution to the artwork.
Stitching Together
2 December, 6 – 7pm
During a Zoom session you will continue stitching together and, if you don't finish your contribution, you can either carry on at home or meet up with your new collaborators via the Facebook group.
Who can take part?
Anyone in Birmingham over the age of 18, with an interest is in stitch or coding.
We welcome a diversity of stitch types from different cultures. No experience necessary just enthusiasm to have  ago and complete your contribution before the 11th January 2021.
We aim to make all our events as accessible as possible. Due to COVID-19 these events will be run on the video platform Zoom. Please let us know how we can help make this event more accessible for you.
What happens to the artwork?
The artwork created in Birmingham will be included in Craftspace's national touring exhibition We Are Commoners launching in Spring 2021.
How to book
This activity is fully booked.