02 Jun

We are Commoners
A Craftspace national touring exhibition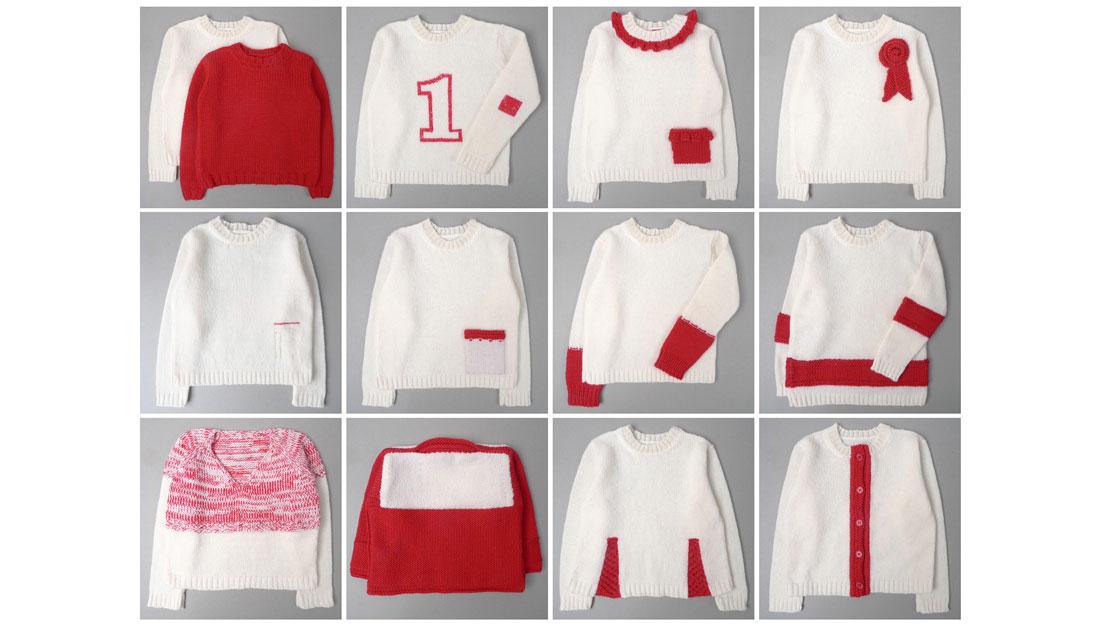 Amy Twigger-Holroyd, Reknit Spectrum Samples (Photo: Amy Twigger-Holroyd)
Residencies – re-planned.
Exhibition – To Be Announced.
Crafting the Commons Research Network – continuing online.
We have been continuing to support artists with their commissions and liaising with venues to monitor the situation.  An announcement of the launch date and venue will be made once known.
The artist's residency in Balsall Heath Birmingham with Alinah Azadeh, in partnership with MAC, has now moved online into the resource Craft in Common. The residencies in St Helens in partnership with Heart of Glass and Newtown in partnership with Oriel Davies Gallery are in the process of being re-planned.
The Crafting the Commons Research Network is continuing via online connections between participants and blog posts will continue. A workshop via zoom took place in May.
We are mapping activism, get in touch.
Some tour slots still available for venues.
"The commons means: Things we share/ Places we share/ Systems we share/ Ideas we share/ Culture we share"
Peter Barnes, On the Commons co-founder
Craft can join the campaign to make a powerful commentary on what society stands to gain from acting to protect and reclaim our global commons.
We are currently organising a national touring exhibition and festival on the theme of the commons. Through new commissions  makers can highlight the issues, contribute their thought leadership and participate in a call to action.
The exhibition will highlight acts of 'commoning' that are shaping the way communities are working together to share and steward commonly owned assets and resources. It will also investigate craft as a form of commons (through knowledge, materials, practice, heritage).
Commissioned works by Amy Twigger-Holroyd, designer, maker, researcher and writer; Deirdre Nelson, textile artist and artist facilitator; visual artist Linda Brothwell initiating a repair movement in the arts; Heidi Hinder an artist with a multi-disciplinary practice often incorporating emerging technology innovations; Blackwater Polytechnic a collaborative with Ben Coode-Adams and Freddie Robins; Jacky Oliver, working mainly in metal to bring together narratives from a range of contemporary and historic sources; Shane Waltener whose practice is rooted in ideas of ecology and reuse of materials; Lise Bjorne Linnert & Gelawesh Waledkhani with practices evolving around social, political and human rights issues; Rachael Colley creating jewellery, objects and sculpture using specific materials highlighting themes around consumption and sustainability.
Three site specific and socially engaged residencies will result in artworks made in response to or co-created with communities: Alinah Azadeh working with communities in Balsall Heath Birmingham in partnership with MAC and St Paul's Community Development Trust, Kate Hodgson working with young women in St Helens in partnership with Heart of Glass and Hefin Jones working with young people in Newtown in partnership with Oriel Davies Gallery.
Research Network
Crafting the Commons is a Research Network led by Nottingham Trent University in partnership with Craftspace. Artists in the exhibition and academics from a range of disciplines are taking part in workshops, discussions and exchange. It is funded by the Arts and Humanities Research Council.
Their thoughts from workshops and discussions will feed into a project blog.
Get involved: Mapping Your Activism
We are mapping local and national community based activism taking place around the theme of the commons for a new exhibition. For example, community led allotment activism, social farms and gardens, community building and, but not limited to, community run shops, libraries and parks.
If this is you, please download the form below for more info and to map your project. Please ignore deadline dates, we are still interested in hearing from you.
This research will become part of the touring exhibition in a variety of ways including showcasing three socially engaged residencies where we will match activists with artists.
Venues
Venues interested in hiring the exhibition can download the info sheet here.
Why the commons?
We are currently witnessing the increasing privatisation of publicly owned assets in the UK. Many areas are experiencing the erosion of local common resources (e.g. parks and
libraries).
Some countercultural movements that have emerged in recent decades have begun to challenge corporate forms of enclosure. They champion the sharing economy, peer to peer economy, open source and social charters to reclaim the commons.
In 'Mapping the New Commons' Charlotte Hess suggests that divergent disciplines, political interests, and geographical regions are increasingly finding the term 'commons' crucial in addressing issues of social dilemmas, degradation, and sustainability of a wide variety of shared resources.
Historian Peter Linebaugh has popularised the term 'commoning' which in modern times is about activating the power of social cooperation to get things done. We are currently organising a national touring exhibition and festival on the theme of the commons through the lens of craft and making.
Commons leader Julie Ristau describes how "the act of commoning draws on a network of relationships made under the expectation that we will each take care of one another and with a shared understanding that some things belong to all of us. The practice of commoning demonstrates a shift in thinking from the prevailing ethic of "you're on your own" to "we're in this together."