Curated in conjunction with the Home of Metal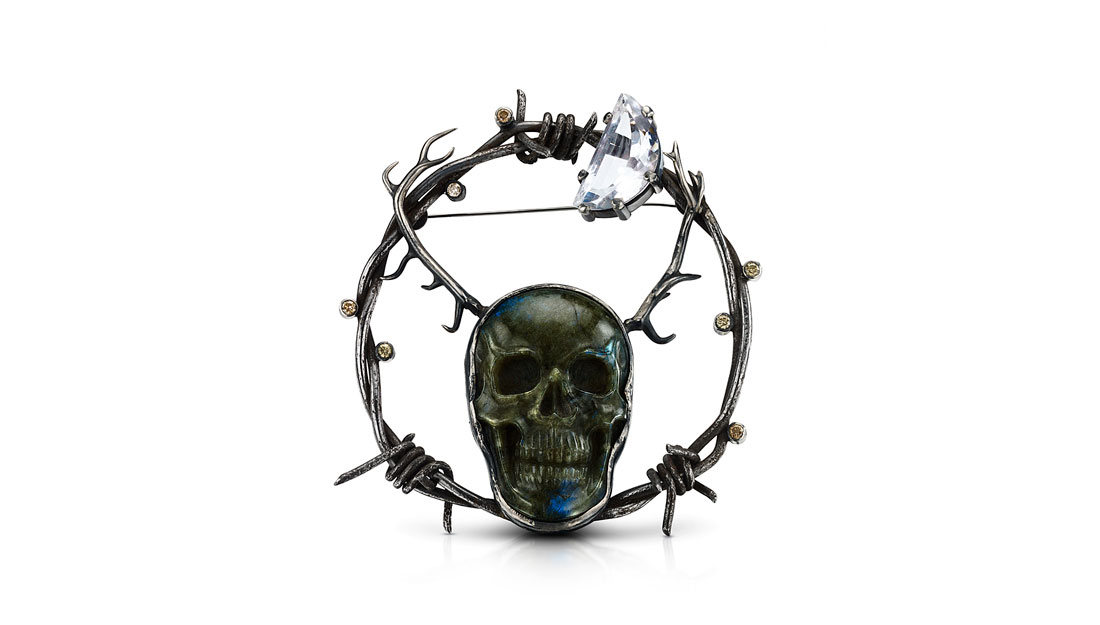 Verklarte Nacht by Dauvit Alexander (Photo: Andrew Neilson)
Workshops and exhibition
Birmingham
Spring 2019
Exhibition took place at Midland Arts Centre, Birmingham, 25th May 2019.
The very essence of the Metal sound was born out of the experience and consequences of working in Birmingham's metal industry. This exhibition connected metal the material and Metal the music. It features local jewellers Dauvit Alexander, Daisy Grice and Jordan Herry whose work is inspired by culture and symbols associated with Metal and Rock.
Birmingham and Heavy Metal
Birmingham was known as the 'workshop of the world' and for centuries it was at the forefront of the UK's metalworking industry with products exported around the world. The factory environment was loud with sounds of metal bashing machinery, for example drop stamping, hammering, grinding and cutting. It was hazardous, resulting in hearing loss and accidents.
This persisted into the 1960's industry in Aston where the founders of Black Sabbath lived and worked. Tony Iommi, the legendary guitarist in Black Sabbath, worked in a sheet metal factory and lost the tips of two fingers in an accident. His reinvention of how he played guitar after his injury contributed to pioneering the sound of Heavy Metal.
With the music came a new aesthetic and culture which included codes of dress, accessories and appearance. Aspects of these inform the work of Dauvit Alexander, Daisy Grice and Jordan Herry. All three are based in the Jewellery Quarter, playing their part in the ongoing tradition of metalwork and trade in the city.
Portraits of the artists in their studios. (Photo: Katja Ogrin)
Artists
Daisy Grice
Designed to empower, Daisy makes bold jewellery for daring souls. She designs with a persona in mind, the Dark Queen, creating her 'Twisted Tales' collection for the strong, fierce women of the Metal genre. Inspired by all things dark and macabre, her contemporary gothic collections draw from symbolism typically associated with Metal culture. Slightly sinister elements suggestive of bones, spines, thorns and claws combine into pieces where sweeping curves and sharp ends meet.
Daisy graduated from the School of Jewellery in 2015 and worked for a designer before returning to do a Design for Industry course in 2017. In 2018 she set up her own business in the Jewellery Quarter and recent awards include; the Editors Choice Awards 'Innovator 2018' International Jewellery London and the 2019 Gold Award, Goldsmiths Craft and Design Awards. Daisy takes commissions and sells via her online shop.
daisygrice.com
@daisygricejewellery
Jordan Herry
Jordan's sculptural jewellery is strongly influenced by Metal music and the cultural aura of 'Rock n Roll'. As a huge fan of Heavy Metal he identifies with the iconic symbols and makes pieces he would like to wear. His original high quality and beautifully detailed designs are counter to cheap mass produced items. His passion has led him to design and make jewellery for bands he admires and it is worn by artists such as Alice Cooper, Zakk Wylde (Black Label Society, Ozzy Osbourne's lead guitarist) and Joe Perry (Aerosmith, Hollywood Vampires) to name a few.
Jordan graduated from the School of Jewellery in 2015 and stayed in the Jewellery Quarter to set up his business. Jordan takes commissions and sells via his online shop.
etsy.com/uk/shop/JordanHerryJewellery
@jordanherryjewellery
facebook.com/jherryjewellery
Dauvit Alexander
A self-professed Metal fan, the iconography of Metal culture has always influenced Dauvit's designs. His work pays homage to Birmingham as the home of Metal music as well as people in factories who worked with the material. Taking inspiration and found objects from collapsing factories and decaying buildings, his work directly references industrial heritage. Old screwdrivers become bangles, rusted hammers become pendants and corroded nuts become rings. There is a playfulness in the unexpected combinations of corroded nuts and precious stones that lifts the status of the scrap materials.
Dauvit worked as a Bench jeweller with John Gilchrist at The Ringmaker in Glasgow between 1976 and 1988. He is an independent jewellery maker and has lectured at the School of Jewellery since 2015. Dauvit takes commissions and sells through exhibitions and galleries.
Artists processes
All three jewellers have specialist knowledge of metal and its properties. They use traditional metalworking and goldsmithing techniques in their work. They combine hand skill with the use of modern digital tools and production methods. The Jewellery Quarter in Birmingham is still the largest centre for jewellery manufacture in the UK. It has every service, skill, tool and material that a jeweller could ever want right there on the doorstep. They are proud to make their jewellery in the Quarter and actively contribute to its community. This section shows some of the working processes and tools associated with different techniques.
Daisy Grice
Daisy gathers inspiration for her collections on a design board, using this to make a unique statement piece first, before creating the rest of a collection. She transfers her hand drawn elements onto computer aided design (CAD) software to build up a sculptural 3D piece. This design is 3D printed in wax and cast into metal using the lost wax casting method. Producing the nylon jewellery uses the same process but it is 3D laser sintered (compressed), instead of printed before being dyed black.
Every piece is assembled and finished by hand to a high polish finish.
Dauvit Alexander
Dauvit explores old factories and streets searching for a rusty piece of iron or found object that inspires his making. These collected objects accumulate before an idea forms and the design work begins. Rusted iron is treated like precious material and combined with other elements. With a background in fine jewellery Dauvit uses traditional processes like: cutting, bending, soldering, engraving, stone-setting and polishing alongside computer-aided design (CAD) and computer aided manufacture (CAM), to create additional elements to the hand-made components.
Jordan Herry
Jordan does drawings to visualise his ideas. He then hand carves designs in wax or polymer clay. A master is produced to allow the making of a rubber mould. Wax is repeatedly injected into the mould to produce a batch. The pieces are cast in metal using the lost wax casting method. Every piece is made in the Jewellery Quarter.
To incorporate more detail into a piece, he will carve it to a larger scale than normal and scan the sculpture using 3D scanning technology. This means it can be 3D printed in smaller sizes whilst retaining fine detail. The 3D printed design in ceramic is identical to the original and used to make a mould.
Birmingham Battle Jacket
The exhibition also featured a battle jacket from a fan who collected badges from gigs which took place at Birmingham Odeon in the late 70's and early 80's. Battle jackets are a form of visual adornment commonly seen at metal concerts and a signifier of belonging to a particular sub culture.
On loan from Mark Cheetham Mark's ownership of the plain denim jacket was secured through a school swap for an Aerosmith poster. Its Battle Jacket status grew from the addition of official band patches bought at numerous gigs in the late 1970's, early 80's. Mainly from Birmingham Odeon but also Digbeth Civic Hall, the patches are a personal memento but also a visual history of the gigs. Regularly worn from 1980–83, the jacket is a major part of Mark's teenage history; friends contributed to it with embroidery and painting. Mark says, "It brings back many memories of who I was with, what I was doing, the things we saw, and the people we met."
For Mark a highlight of this time was meeting Pat Benatar on her tour bus. Her signature is on the inside of the jacket. This Battle Jacket embodies the culture of the Metal music genre. It was worn to feel part of a movement; as Mark says, "…everyone had some kind of uniform…and Rock was (still is) big in Birmingham!"
The exhibition was supported by Arts Council England and the John Feeney Trust.
Visiting – get involved
The exhibition was held at MAC in Birmingham, 9am till 9.45pm, 25th May 2019 until 26th August 2019.
Portraits of tattooed hands. (Photo: Katja Ogrin)