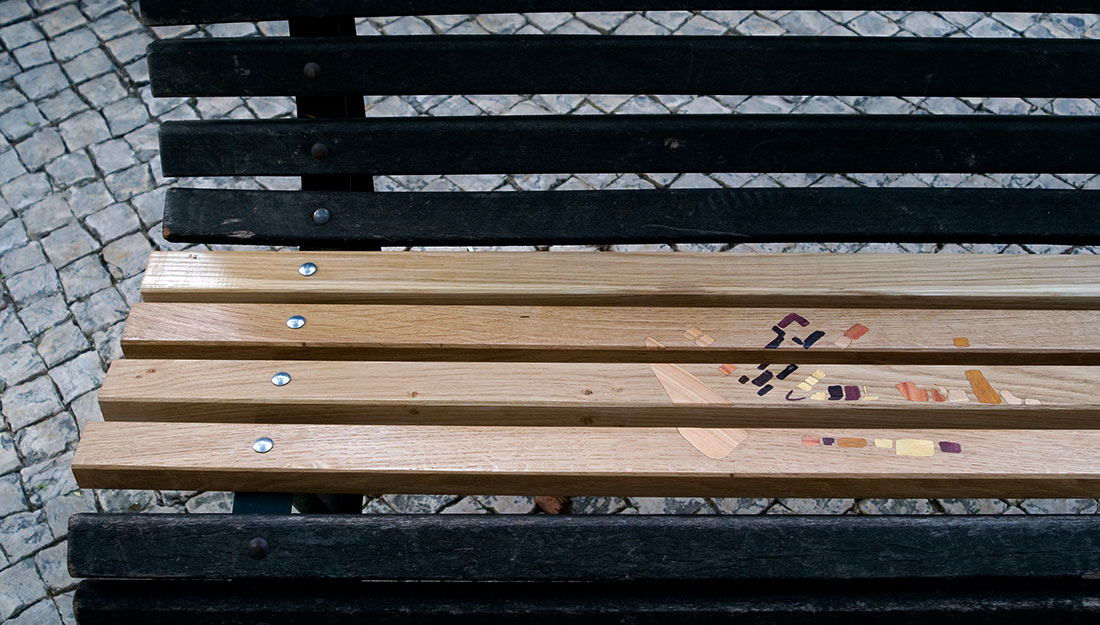 Linda Brothwell, Acts Of Care: Bench Repair Project. (Photo: Bridget Smith)
Linda considers 'Acts of Care' as the anchor of her creative practice; "bringing me home, using my hands, to the very centre of myself." Since 2009 this ongoing project has had international editions, each created for a new place, using varied skills and techniques. All placed the intention of 'care' of public spaces at the core.  Through making the work and the tools required, she can spend months or years immersed in the techniques, materials and stories of a place.
The first' Bench Repair Project' edition was in Lisbon. Linda replaced broken wooden bench slats with new ones city-wide, inlaid with traditional Portuguese designs. She carefully created each tool to play a specific part in the act of care, to fit her hands and be portable for working on street benches.
For We are Commoners, Linda revisited the project at a park in Bristol. Each new panel has been inlayed by hand using handmade tools. Imagery of patches and stitches are used to decorate, highlighting the potential for beauty in everyday care and repair.
Follow along
In August 2021 Linda is sharing 'follow along' updates as she creates new slats for the Bristol benches which will give a deeper insight into the making process. Click the links below to read the updates and sign up using the link at the end of each message.
Introduction
Bench Repair Follow Along #1:   Auditing the benches and working with partners.
Digital artist Finbar Marcel created a film in response to the themes of this work, inviting us into a new world of tools and action in public spaces.
Linda Brothwell, Acts Of Care: Bench Repair Project. (Photos: Bridget Smith)
Bench Repair, Shadow Board for handmade tools, the artist sitting on a repaired bench.
Acts of Care: Bench Repair Project (2009), was commissioned by Clare Cumberlidge for the British Council UK Pavilion 'Timeless' for Experimenta Design Biennial, Lisbon, Portugal.
The project was nominated for 'British Insurance Designs of the Year' in 2010.