Working in partnership with Birmingham Settlement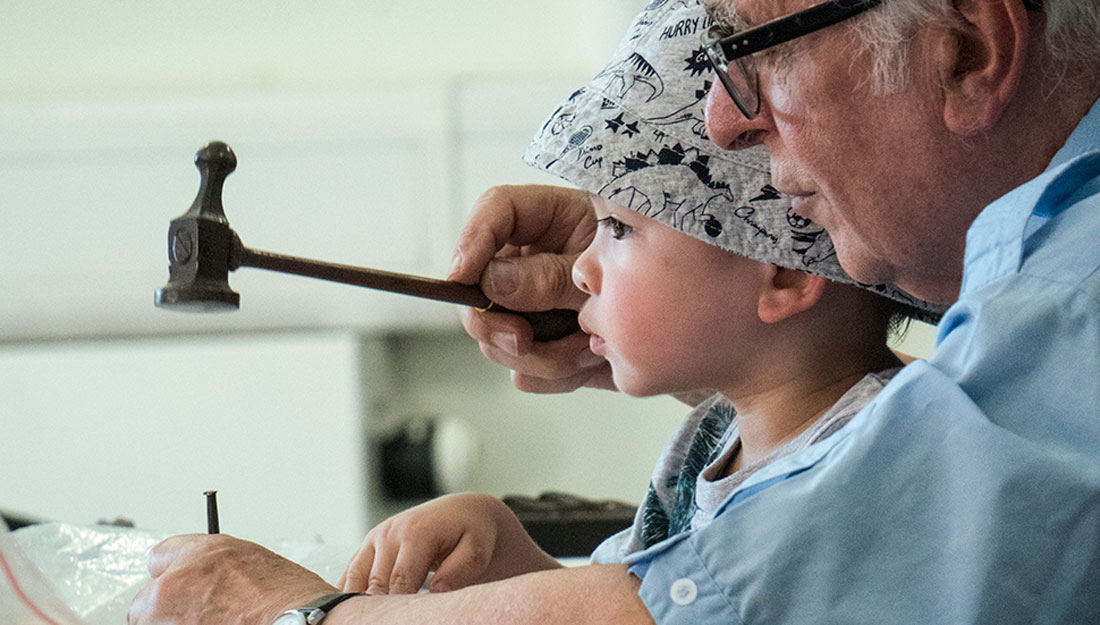 Images from the workshops (Photos: Liz Ord)
Community project
Birmingham
2018
A year-long programme of inter-generational making based activity at Birmingham Settlement in Aston. Investigating whether the exploration of materials through making in a community setting was a transformative and positive process that developed social, cognitive and communication skills. It consisted of three materials focused open-ended residencies.
Exploring the benefits of making together as a family
It can be difficult for families to find time and space to do activities together.  They may not have the skills to support open-ended play, have access to the materials or know how important play is. Older people can be isolated and disconnected from those who are younger. This project gave children, parents, carers, grandparents and other older people a space to explore and make together.
Artists led each residency in either clay, textile or metal. They created a set of workshops where they encouraged parents and children to explore materials together whilst also introducing new skills and techniques.
Christopher was 3 at the start of the project. His family was new to the Aston area and to Birmingham Settlement. Christopher was reluctant to engage initially, mainly due to the messiness and the texture of the clay. After building confidence in the space, Christopher approached each new activity with concentration and focus, deconstructing, rebuilding and developing, demonstrating considerable and notable creativity and imagination.
Families described the activities as therapeutic, where they could block everything else out and just focus on exploring materials for an hour or two. "It was an opportunity for them to take time out of their everyday life and do something for themselves – learn new skills."
Working with materials and very young children
The textile sessions introduced techniques and activities focused on felting, weaving, knotting, wrapping, sewing, fabric painting and embroidery. The sessions used repurposed easy to find fabrics such as old t-shirts and household textiles, to encourage parents to make at home with their children.
The metal residency artists introduced metalworking, silversmithing and jewellery making tools and techniques using the real tools of the trade! Working with chasing punches, textured silversmithing hammers and metal burnishers, the families tried metal embossing, hand chasing and wire work using steel, pewter, copper and aluminium.
A metal sensory area was created alongside making activities, featuring a variety of treasure baskets, mirrors, lights, fabrics and musical instruments, offering a space to enjoy exploring the textures, sounds and tactile properties of metal.
Participants of all ages had the chance to get messy as they explored clay in its different states; wet, slip, leather hard and fired and tried out techniques of coiling, throwing and press moulding. Families had the chance to work individually and collaboratively and it was great to see their growing skills and concentration. "Who'd have thought you could paint with clay!"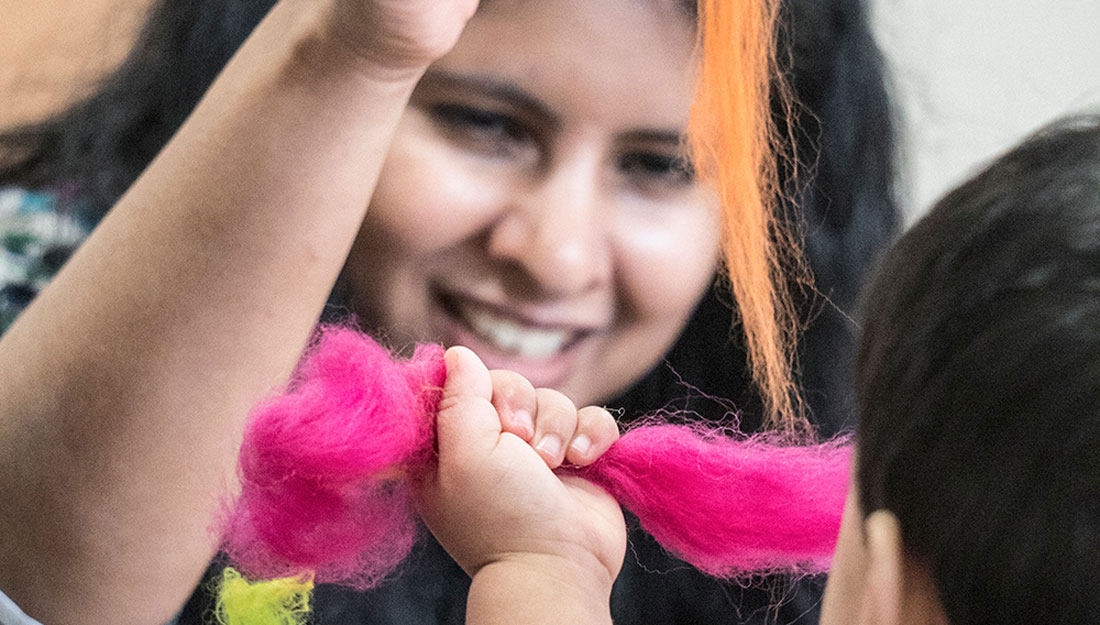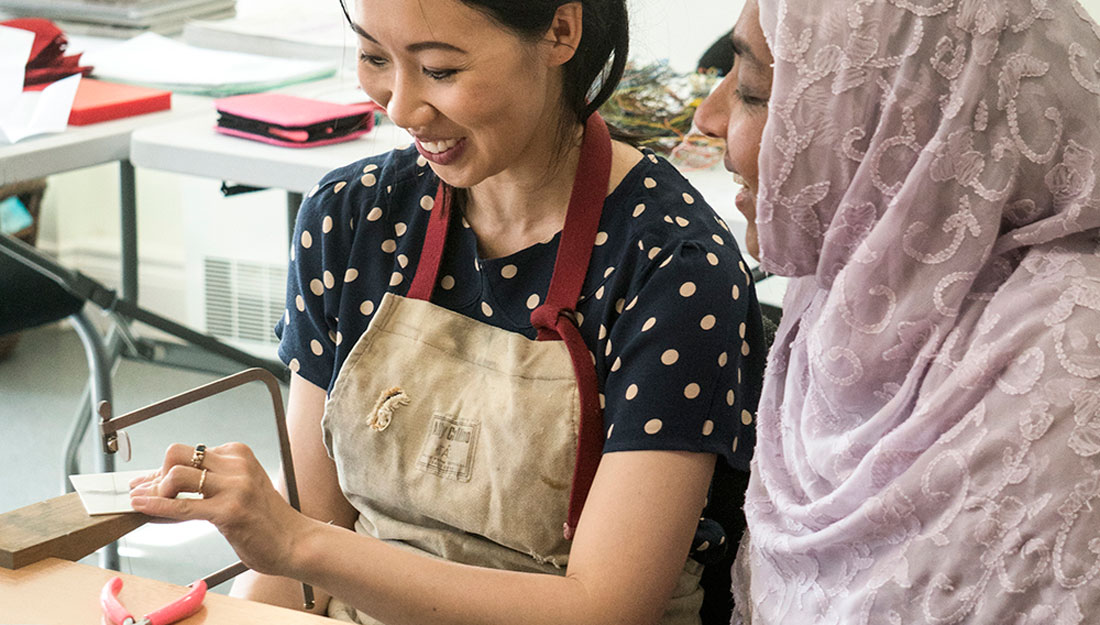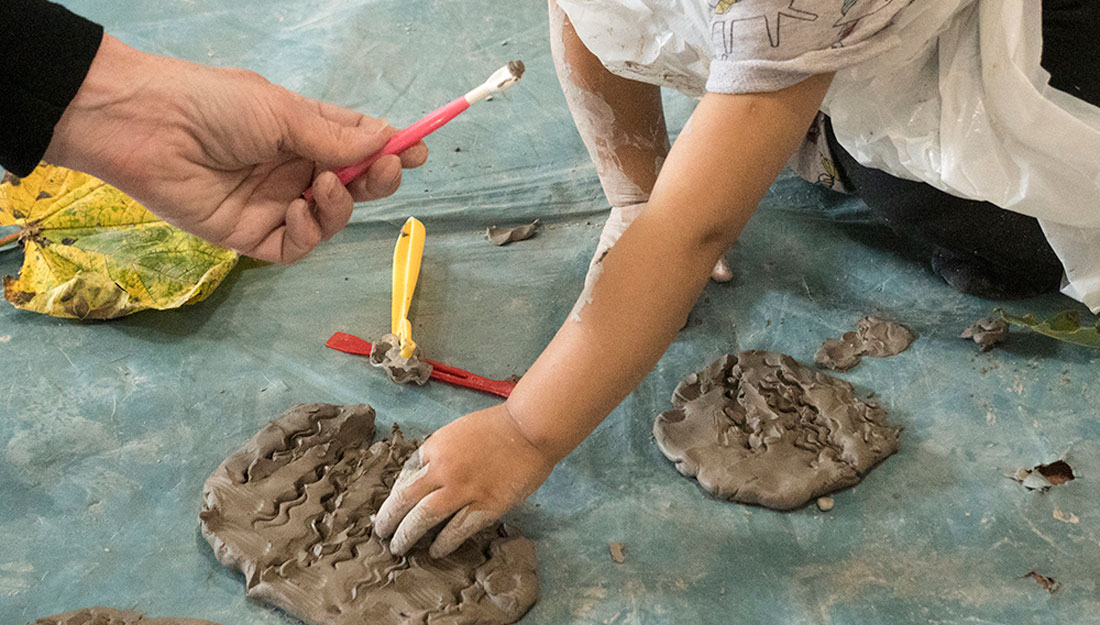 Building skills for the future
For Birmingham Settlement it was a chance to invite new people into their setting and to integrate their older and younger members.  During the project a regular Play and Stay sessions was re-started.  At the end of the project we were able to leave them with a series of tool kits to support future activity.
People
Tusheeta David is an established jewellery designer who also works in textiles.
Theresa Nguyen is an established artist silversmith, creating a wide range of pieces inspired by natural forms.
Jon Williams is an established ceramic artist and co-founder of Eastnor Pottery
Support artists
Amarah Simms, textile artist
Hannah Brown, a designer maker specialising in sculptural surface design
Joanna Dawidowska is a ceramic designer.
Photographer
Liz Ord
Partners
The evaluation of this project was supported by CREC (Centre for Research in Early Childhood).
Funding
Making Together is funded by Birmingham City Council through the Cultural Re:generation scheme.
Making Together
Making Together is a programme of intergenerational making based activity initiated by Craftspace in partnership with organisations around Birmingham. The project provides an opportunity for children, parents, carers and grandparents to engage and connect through materials and making, using a wide range of accessible approaches and processes.
Craftspace believes that the exploration of materials through making is a transformative and positive process that develops social, cognitive and communication skills, and encourages a lifelong connection to creativity and making that supports mental health and wellbeing.