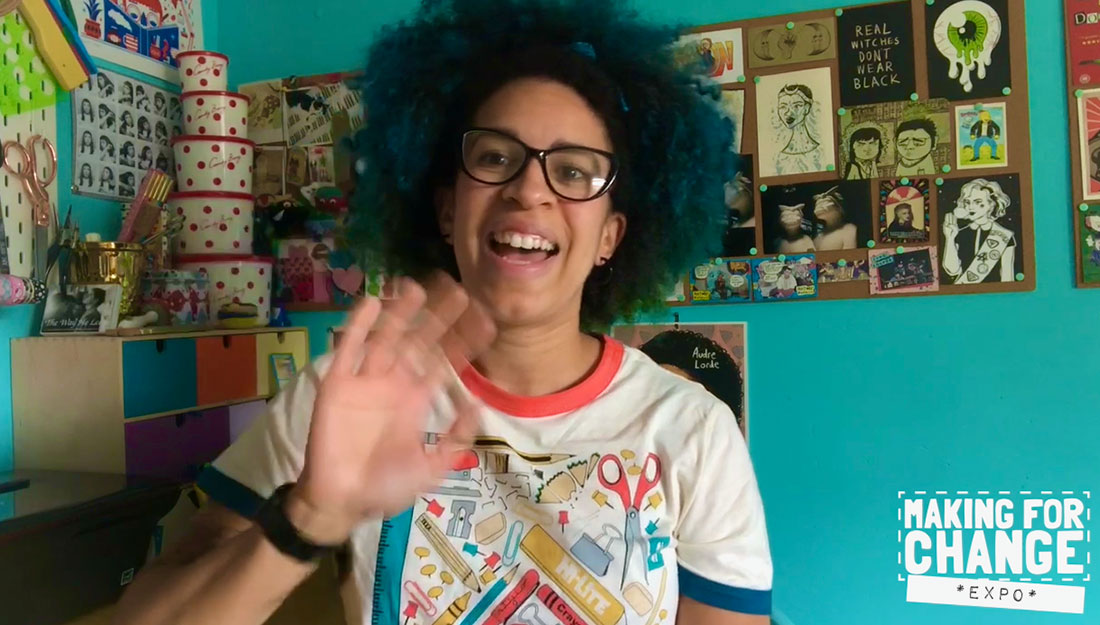 Artist Seleena Laverne Daye 
Making for Change is a project that works with young people aged 16 to 25. We mostly work in Birmingham and the surrounding area but our online spaces and activities are open to all.
There are different ways to get involved with Making for Change. Sometimes we advertise for people to take part and sometimes we work with existing groups. Take a look below to see how you can get involved right now.
Making My Mark
In our project from 2021, using Craftivist projects developed by artist Seleena Laverne Daye, you can use making to have a voice about the things you care about. Visit the Making My Mark page of the Making for Change Expo to find 3 great makes. Make a zine, a patch or a portrait from felt. You can use things you already have at home and all the instructions are available for these simple makes.
Get involved on Instagram
Join the Craftivism Conversation on Instagram @CraftspaceYouth. There's lots of info here about craftivists, groups and ideas and inspiration for your own campaigns.
Making for Change Expo
Visit Making for Change Expo – a website created by young creative Daljinder Johal.  She has looked back at the past projects and picked out campaigns to showcase. Be inspired to start your own campaign.
You'll also find more Craftivism Makes from Seleena Laverne Daye and others, inspired by young people's campaigns. Make something to promote your own campaign or to support one of our young craftivist's projects. Show us what you've made on social media.
Contribute to our Craftivism Manifesto. See what our participants and craftivist experts think about craftivism and let us know your thoughts.
Complete an arts award
Arts award is a range of nationally recognised qualifications that support you to grow as artists and arts leaders. Take a look at our online guide to how you can use Making for Change resources to complete your arts award.