Craftspace Curates: Exploring craft in an expanded field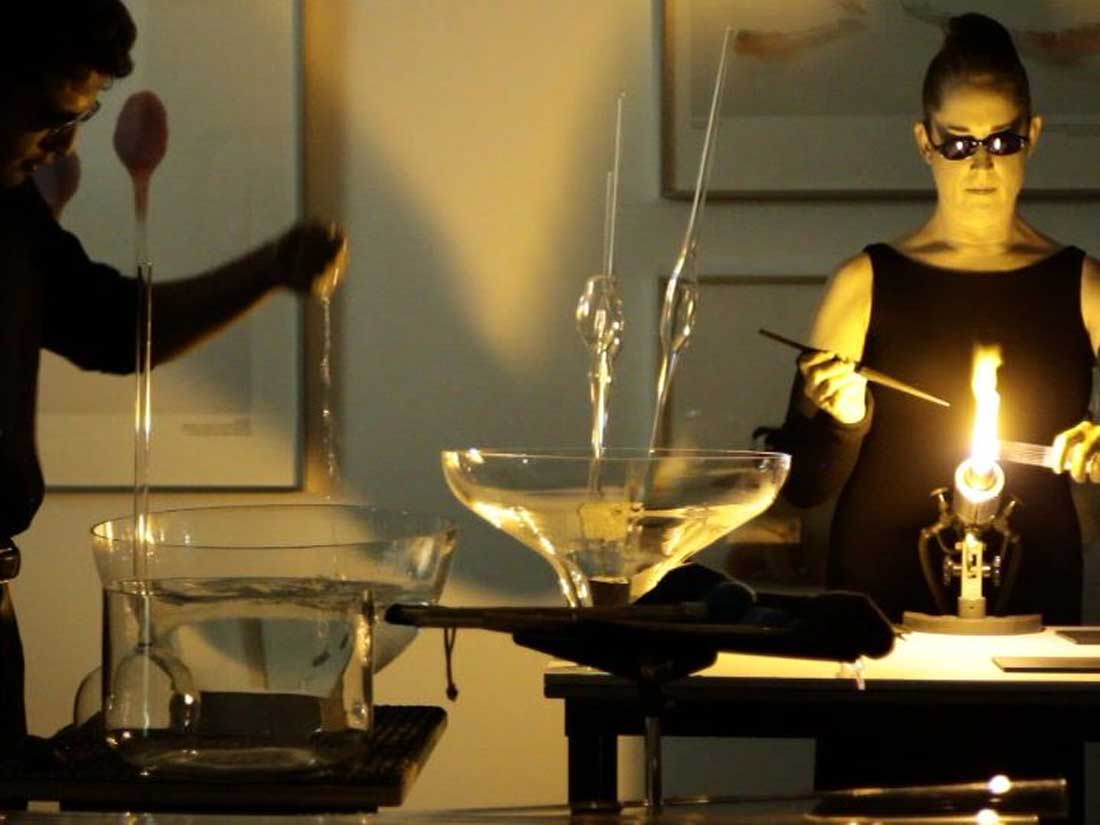 Flames and Frequencies by Carrie Fertig. Image courtesy Mike Turzanski
Performance 2nd and 3rd September, Foyle Studio, mac birmingham.
Join the conversation on twitter
#craftspacecurates.
Craftspace in partnership with mac birmingham present a unique one hour performance by the Torcher Chamber Arkestra, seen live for the first time in England, led by glass artist Carrie Fertig and featuring composer Alistair MacDonald  and percussionist Stu Brown.
In this unusual collaboration Carrie Fertig creates a series of glass instruments, live, using the process of flameworking. These new instruments and others made from recycled glass, are played by her and the musicians and combined with electronic and digital sound.
After each performance the audience will have the opportunity to handle and play the instruments. On Saturday evening there will also be a Q&A with the artists.
"I create sonic and visual environments for transformative experiences. I use flameworked glass in an interdisciplinary practice incorporating sound, light, fire, electronics, dance, and film to address emotional, spiritual, and physical states and thresholds. My preferred materials are invisible or transparent: sound and clear glass. My work is made with fire: this elemental process speaks to my recurring subjects of human connection, self-knowledge, and flight and stasis. I build environments and situations to which people privately bring their deepest selves to visually public installations.  Outputs are experiential: performance, music, film, installation, and sculpture. All of my work contains engagement with collaborators or participants, and much of it is interactive."
Carrie Fertig via www.carriefertig.com

Craftspace Curates
The Craftspace Curates season, in partnership with mac Birmingham, continues throughout 2016 and will encourage audiences to consider the role of craft and the maker in society through a series of commissions and events which include live performance, film, digital media and public art.