Facilitated by Ruth Singer, Textile Artist
A partnership between MAC Birmingham and Craftspace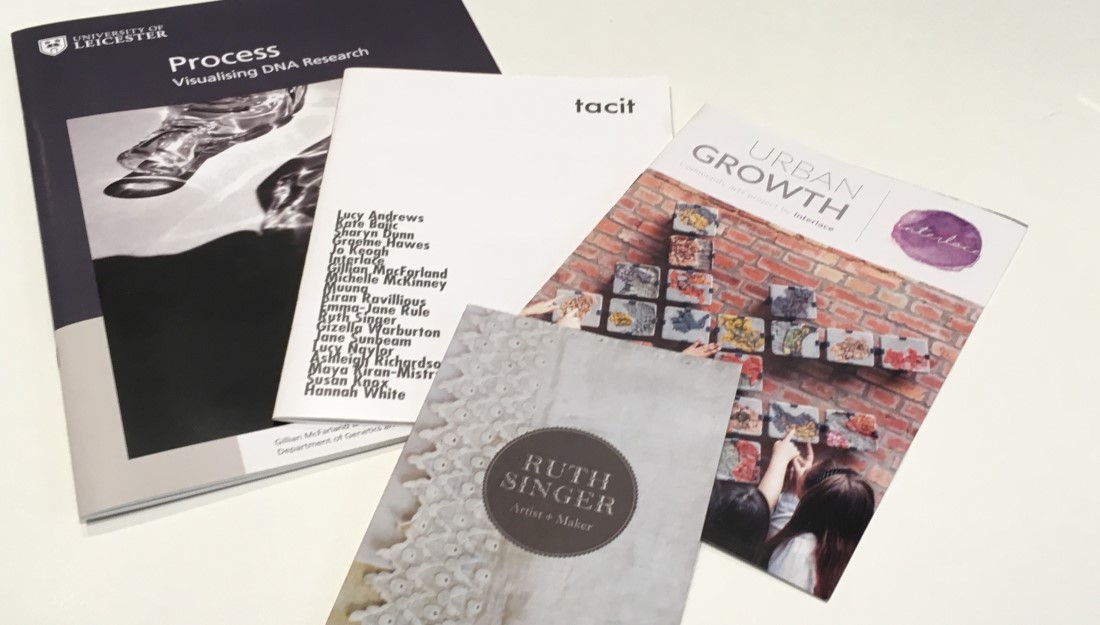 Ruth Singer textile documentation leaflets
Top Tips from Ruth Singer, Textile Artist-Maker
This guest post has been written by Ruth Singer, a textile artist-maker who has exhibited widely in the UK and has won awards including the Fine Art Quilt Masters prize 2016, more information about Ruth and her work can be found on her website.
This workshop was designed to help the group prepare, plan and run a successful project.
1. Why?
It is all too easy to concentrate on the practicalities of your project plan, but always start with the WHY. What is the meaning of this project? What will it really achieve for you and for those involved? Getting to the core of why you are doing this is vital; it gives your project real energy and impact from the start. Don't lose sight of why you are doing this when the practicalities start to take over.
2. Steps
Try creating a visual map of the different activities which will need to happen before your project can achieve its outcomes. Flag up the hurdles or challenges on the way and work out what needs to be completed for you to move ahead.
3. Build Networks
Contacts, networks, partners, participants are all vital to a project's success. Build and nurture your contacts, keep in touch with them, send them updates, make them part of the project all the way through.
4. Confirm
Make sure all the practical arrangements for your project are properly agreed, in writing. Your own understanding of the plans might be different to your project partners. Get it all written out and agreed in advance to avoid problems caused by misunderstandings.
5. Don't know
Be clear about what you don't know and don't ignore the tricky things. Find the right people to help you get the answers, don't just ignore the problem.
One thing that has stood out for me over the course of this MAC Fellowship is that there are many different ways to make money as a designer/maker. It seems to me though that there are very few makers that make all of their money from one way. Many have multiple income streams such as selling through galleries, selling at fairs, teaching workshops and running community projects. With so much to juggle, it was great that our last session of the MAC fellowship was to discuss pain-free project planning with Ruth Singer.

Ruth has nearly 20 years of experience planning and running projects and was a wealth of information that she shared openly. As you can expect, she is very well organised and came prepared with a document for each of us that broke down project planning into 8 smaller areas. The idea is that by thinking about and clarifying each area, you end up building a well-defined project. It also helps to quickly highlight areas that need more thought.

I am a planner by nature but can often get overwhelmed when I don't see a clear path from taking an idea and making it a reality. Through Ruth's workshop, it was so helpful to see what types of questions you need to ask and what you need to consider in order to deliver a project that involves the community or other businesses. I definitely feel more confident about creating my own projects and even approaching museums to partner with. So, a big thank you to Ruth for making projects feel possible and I can't wait to see what develops next!

Danielle Laurent