Facilitated by Hannah Lamb
A partnership between MAC Birmingham and Craftspace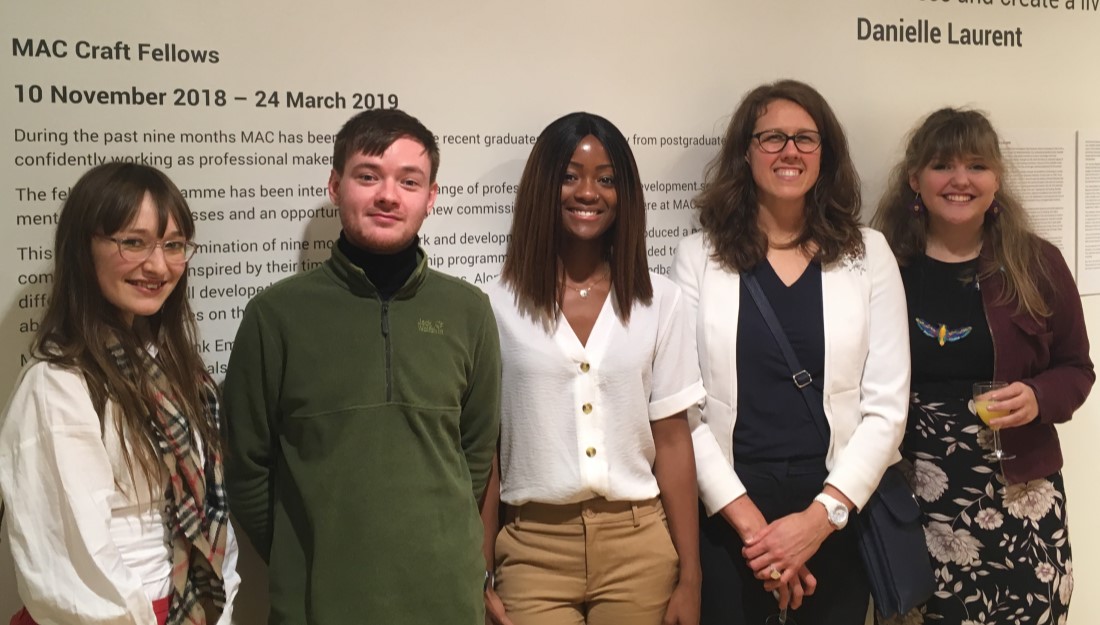 The Craft Fellows at their exhibition launch
The main focus in this masterclass was sampling within our work: actively using materials to their full potential and utilising the materials different qualities to achieve different outcomes. The idea of applying different processes to the same material in order to create a selection of test pieces with which further development and experimentation can progress a piece of work into a new direction.

Our facilitator, Hannah Lamb, is an experienced textile embroiderer. Working with textile, stitch, embroidery, print and photography to connect the audience with the natural world around them. Hannah lectures on textile embroidery at the Bradford School of Art and is an external examiner at Birmingham City University. In her personal practice she is also a part of the textile 62 group which exhibit internationally working solely in textiles.
I have used a sewing machine and practiced sampling with various materials in my practice previously, more predominantly during my degree. Due to the medium that I use as a contemporary jewellery designer, my version of sampling is very different now and reflects the nature of the costly drawbacks, errors can be in my work. Digital prototyping is essential and therefore I feel I have lost the freedom of creativity. I didn't feel that this masterclass will change the way I research & development my own practice, but I was hoping that I may walk away with a rejuvenated secret love of using a sewing machine.
We started with an introduction to the 62 Group launch of their new exhibition 'Ctrl/Shift' and Hannah discussed the background and inspirations behind her new body of work.

Getting a fresh sense of textile adventurism, we jumped into sampling by cutting up into sections the material we were asked to bring in. Mine being a cream white cotton shirt- very original I know. Using a gridded table as a resource we first wrote down our plan of experiments. This enabled us to affectively keep track of what we had already done.

Using different processes of machine sewing, dying, cutting, melting and heat transferring, we each created a varied set of linked, but recognisable samples showing a continuity of ideas.
Although I do not use textiles in my practice, the outcome wasn't as important as the experience and process or doing it. I feel a self of achievement kickstarting using a sewing machine and during the class I recall a few hints of moving beyond the sewing machine. I think this is a clear message that I find machine sewing therapeutic and would like to pursue a personal project separate to my practice. More so, I'm not annoyed that my practice calls for less creative means of sampling. I am more aware though, that I need to have a focus on keeping the fresh creative side of my practice visible in other means.

Hannah Lamb was very easy to work with and to communicate the next step in ideas or the occasional hiccup with the sewing machine. Very pleasant masterclass and a good topic choice to start our workshops in practical skills.

Stuart Crabbe