Facilitated by Rita Patel
A partnership between MAC Birmingham and Craftspace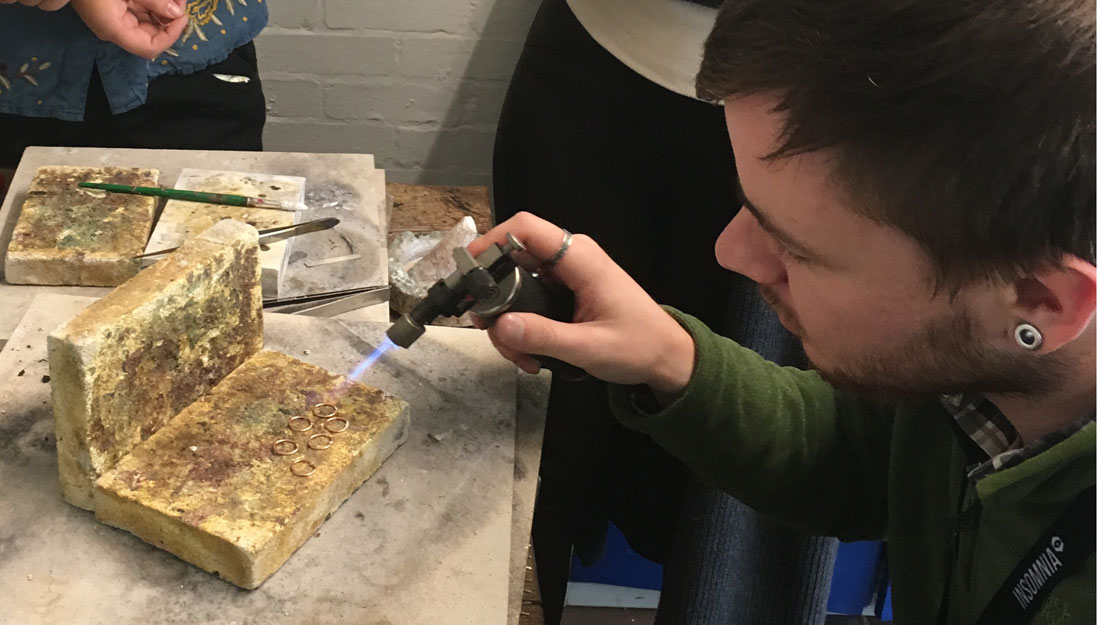 Stuart Crabbe during the workshop, Photo: Rita Patel
Top tips from Rita Patel, Jeweller
Rita is a contemporary jewellery designer based in the Jewellery Quarter who creates work with cultural themes inspired by her heritage & travels, and her work has been exhibited and sold nationally and internationally, more about Rita and her work can be found on her website.
1. Starting point
The introduction task was to use 1 metre of 1mm wire to create anything within 10-15mins, and then share with the group what you made and why
A simple starting point helped break the ice, get a feel for the main material and launch ideas.
2. Open ended ideas
Experimenting with the materials and tools opened up ideas and allowed the makers to work in an open ended way without a prescriptive end product. This also gave the freedom to push the limits of the materials and techniques at their own pace.
3. Combining materials
The choice of using metal along with other materials gave the opportunity to develop new ways of exploring working with metal and fusing it with other materials such as felt, fabric, paper, mesh.
This gave the opportunity to create new skills and outcomes by combining new and familiar materials in their practice.
4. Sharing and observing
The day allowed the time to learn from each other through sharing their experiences and observing techniques explored during the session as well as demos and discussion.
5. Presentation
Producing samples which were then presented in a sketchbook helped to reflect on what was made and the layout of samples helped to visualise ideas and annotate instructions on techniques or processes used.
Rita is a jewellery designer maker, who works from her studio in the Jewellery Quarter, Birmingham. Her designs are beautifully simple and are subtly inspired by culture and religious practices.

Alongside her jewellery collections, Rita is constantly active creating and leading various workshops for a wide range of ages, abilities, and backgrounds. She does this with many different organisations, museums, hospitals and schools. During her talk, she explained how she develops these classes and how she first started being involved with these associations. Rita spoke about how she has developed these relationships and is now regularly being asked to be part of these events.

The workshop part of the day started with each of the fellows being given a long piece of malleable wire, with the incredibly open brief of creating anything we wanted. It was interesting see all our different approaches to this task, from larger scale repetitive designs, to smaller scale illustrative. Some keeping the wire in one long piece, and some cutting it up and finding ways to connect the sections.

We then got the opportunity to experiment with different silver-smithing techniques, for instance rolling and imprinting different materials on sheet metals and soldering; along with trying out any of the tools available in the workshop including using saws, hammers, and drills.

This was valuable for everyone that took part, those of us that had zero previous experience with working with metals learnt so much about working with different materials, and those that studied and are jewellery designers got the chance to get back to basics and play again without the pressure and time restraints of the normal working day.
It was an incredibly valuable day that we documented in the sketchbooks, which were given to us at the beginning to track out progress and experiments. It has made me much more inquisitive of trying new materials (I usually work with only 1 type of fabric). I am now thinking of other ways to incorporate different techniques and materials to compliment my embroidery!

Laura Marriott