A co-creation and skills exchange project between Dublin, Birmingham and Falmouth
A partnership between Craftspace, Falmouth University and Bealtaine Festival (Ireland)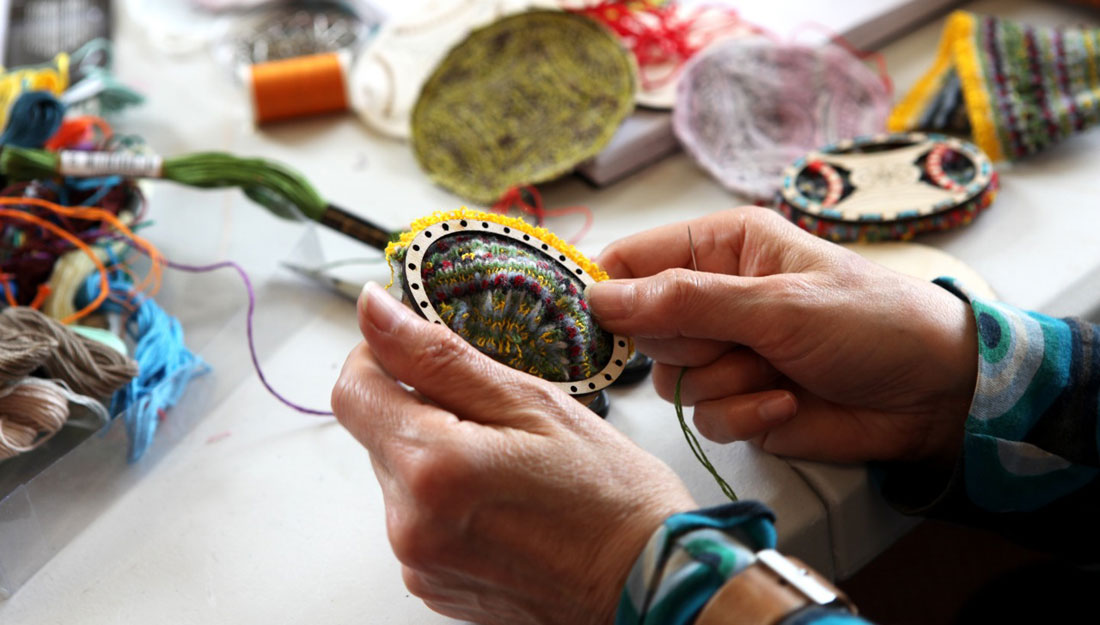 Workshop participant (Photo: Bryony Stokes)
The project was also in association with Voluntary Arts England and other organisations. Part of the AHRC's Connected Communities program.
International research project for people aged 50+
Birmingham, Falmouth (Cornwall), and Dublin (Ireland)
2013 – 2014
Find out more about the project on the
blog
. You can also find the review of the project on
Slideshare
.
"Making makes me come out of myself and confident that I have achieved." – Project participant
Project information
CARE (which stands for Community Asset-based Research and Enterprise) is an international research project involving co-creation and skills exchange between groups in Dublin in Ireland and Birmingham and Falmouth.
Research questions
Some of the questions we posed as part of that project were:
How does learning through craft, sharing, making and reflecting develop skills and creativity?
How can people work purposefully and enjoyably in the second half of life?
How can we create a sense of opportunity about the second half of life – to take stock, re-skill, plan ahead, connect with others and live more healthily?
The process
The element led by Craftspace used heritage buildings and their associated histories and stories as a starting point. The Dublin group drew inspiration from Dublin Castle and the Birmingham Group from Soho House Museum (home of industrialist Matthew Boulton) as catalysts for creativity. The aim was to build in a process of product development using a combination of hand making and cutting edge digital technologies. We used this project to plant a seed of potential for developing a social enterprise approach. The groups created batch produced (hand finished) jewellery, textiles and other objects/products inspired by the fabric of the two buildings as well as motifs, furnishings and collections.
Our research project also tried to address key recommendations made in the 'Five Hours a Day' report by NESTA in the UK. We are living longer and most of us will need to supplement our income well into retirement or indeed embark on second careers and in this respect craft and making offers many opportunities. The report identifies a need for systemic change through innovations in policy, products and services, markets as well as behaviours to meet the dramatically changing needs and opportunities of an ageing population' and the 'need to innovate to enable us to adapt, including recreating our social institutions and creating ways for people to help one another to harness the opportunities of an ageing society and enable all of us to age better'.
We used online tools like Skype to connect people and conduct exchanges between Falmouth, Dublin and Birmingham. It has up-skilled all of us involved in learning how to collaborate, co-operate across distances, appreciate other cultures and it has enlarged our worlds releasing collective potential greater than if we were working in isolation. For Alex in Birmingham, who is half Irish and half Jamaican or as he calls it 'Jamirish', connecting with the Dublin group has been inspirational and meaningful.
We collaborated with MakerNow a new digital fabrication and manufacture unit for community use within Falmouth University. Artists and participants from Birmingham and Dublin met up there and gained new knowledge and experience of computer aided design, digital milling and laser cutting machines. For many participants, through this project they have become digitally aware for the first time in relation to new tools for design and manufacture.
Project Impact
Learning and sharing through craft
We found there was a strong sense of co-creation and not only between artists employed as facilitators on the project and participants but also between the groups and researchers across geographic boundaries. Materials and techniques were something we all had in common but applied differently.
The artist Liz Nilsson who accompanied the Irish participants on their trip to Falmouth observed that
"Before our visit participants were both struggling with the concept of digital fabrication; they found it too technical, and too far removed from their own experiences. With excellent one-to-one mentoring from the staff they were encouraged to explore milling and laser-cutting at a pace that suited them. The way they were talking about the processes by the end of the visit showed that they had clearly grasped the techniques and technology."
Working purposefully and enjoyably
Through this process we created social and human capital – grassroots based, active, engaged and enterprising citizens. In this group of people and their skills we have valuable community assets – if fully mobilised the impact could be hugely beneficial socially and economically.
There were conversations amongst the two groups in Birmingham and Dublin which led towards a legacy – some have aspirations to continue craft groups which facilitate skills exchange, others are thinking about further development of products to sell linked to heritage sites.
The work produced in Dublin and Birmingham has craft processes and motifs which are similar and universal but each body of work also embodies and reflects place, locality and identity.
Working with…
The project was led by Falmouth University with Craftspace acting as a community co-researcher.
Funding
The project was funded by the Arts and Humanities Research Council (AHRC) through its Connected Communities programme.