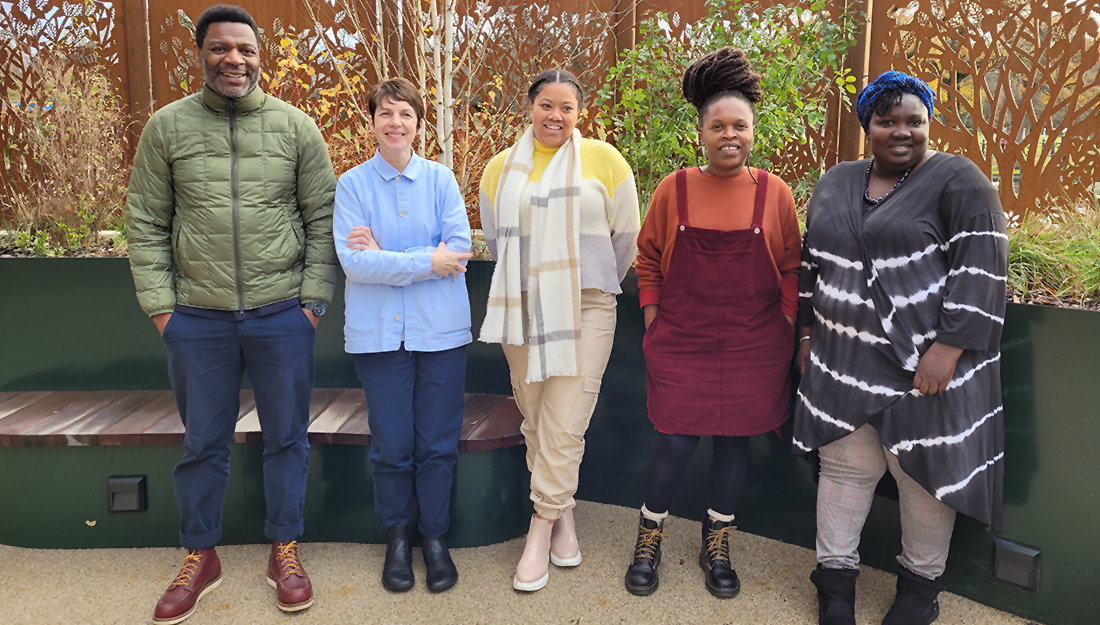 Left to right: Wayne Pottinger, Natalie Cole, Kalandra McFarquhar, Laura Nyahuye, Mahawa Keita.
Creative Team
4600 Gifts has been devised by Craftspace alongside a team of creative talent from the West Midlands: Pottinger + Cole, Laura Nyahuye, Mahawa Keita and Kalandra McFarquhar. A mix of established and early career product designers, artists and designer makers, each has a heritage or lived experience of diaspora relating to British colonisation and the Commonwealth.
Pottinger + Cole
Product designers Wayne Pottinger and Natalie Cole once again combined their creative expertise as Pottinger + Cole especially for 4600 Gifts. They ran a dynamic multidisciplinary design studio for ten years selling and exhibiting their work nationally and internationally.
Laura Nyahuye
Laura is a Zimbabwean born artist, now based in Coventry, who makes wearable body adornments. Her work challenges perceptions and addresses issues, to do with women and migrant communities, tokenism, marginalisation, discrimination which are real-life issues, affecting migrant communities. These topics are woven into Laura's poetic writing and handmade body adornments.
Kalandra McFarquhar
Kalandra is a Birmingham-based product designer. She founded KLNDRA to create her collections of handcrafted bespoke homewares and specialises in using Jesmonite. KLNDRA Design
Mahawa Keita
Mahawa is a Birmingham-based textile artist and maker who recently graduated from Birmingham City University. Born in Senegal, she later moved to The Gambia and relocated to the UK a decade ago. She specialises in constructed textiles and the expressive potential of using textiles within artistic contexts. The personal narratives, references and themes in her work draw attention to issues surrounding human rights, motherhood and resilience. She is passionate about the potential for craft as a tool for community building, unity and empowerment.