08 May

Show Your Metal
Curated in conjunction with the Home of Metal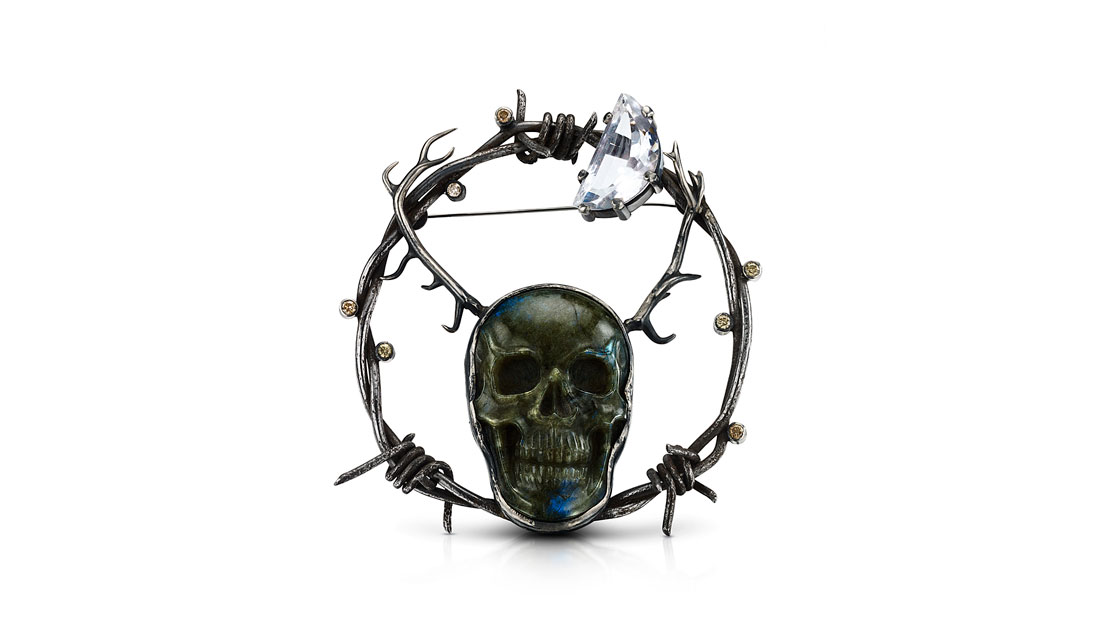 Verklarte Nacht by Dauvit Alexander (Photo: Andrew Neilson)
Workshops and exhibition
Birmingham
Spring 2019
Calling metal and music fans to participate in free jewellery making workshops
with artist Dauvit Alexander. Starting 15th May. Apply here.
Exhibition opens at Midland Arts Centre, Birmingham, 25th May 2019.
The very essence of the Metal sound was born out of the experience and consequences of working in Birmingham's metal industry.  This exhibition connects metal the material and Metal the music. It features local jewellers Dauvit Alexander, Daisy Grice and Jordan Herry whose work is inspired by culture and symbols associated with Metal and Rock.
Birmingham and Heavy Metal
Birmingham was known as the 'workshop of the world' and for centuries it was at the forefront of the UK's metalworking industry with products exported around the world. The factory environment was loud with sounds of metal bashing machinery, for example drop stamping, hammering, grinding and cutting. It was hazardous, resulting in hearing loss and accidents.
This persisted into the 1960's industry in Aston where the founders of Black Sabbath lived and worked. Tony Iommi, the legendary guitarist in Black Sabbath, worked in a sheet metal factory and lost the tips of two fingers in an accident. His reinvention of how he played guitar after his injury contributed to pioneering the sound of Heavy Metal.
With the music came a new aesthetic and culture which included codes of dress, accessories and appearance. Aspects of these inform the work of Dauvit Alexander, Daisy Grice and Jordan Herry. All three are based in the Jewellery Quarter, playing their part in the ongoing tradition of metalwork and trade in the city.
Battle Jackets
The exhibition also features a battle jacket from a fan who collected badges from gigs which took place at Birmingham Odeon in the late 70's and early 80's. Battle jackets are a form of visual adornment commonly seen at metal concerts and a signifier of belonging to a particular sub culture.
Free jewellery making workshops
During the exhibition members of the public who have a passion for Metal music will be making their own jewellery inspired by its culture and aesthetic. More information can be found here on the Show Your Metal jewellery workshops page.
Working with…
The exhibition is supported by Arts Council England and the John Feeney Trust.
Visiting – get involved
The exhibition will be held at MAC in Birmingham, 9am till 9.45pm, on 25th May 2019 until 26th August 2019.