03 May

Connecting Communities: Maker-Centric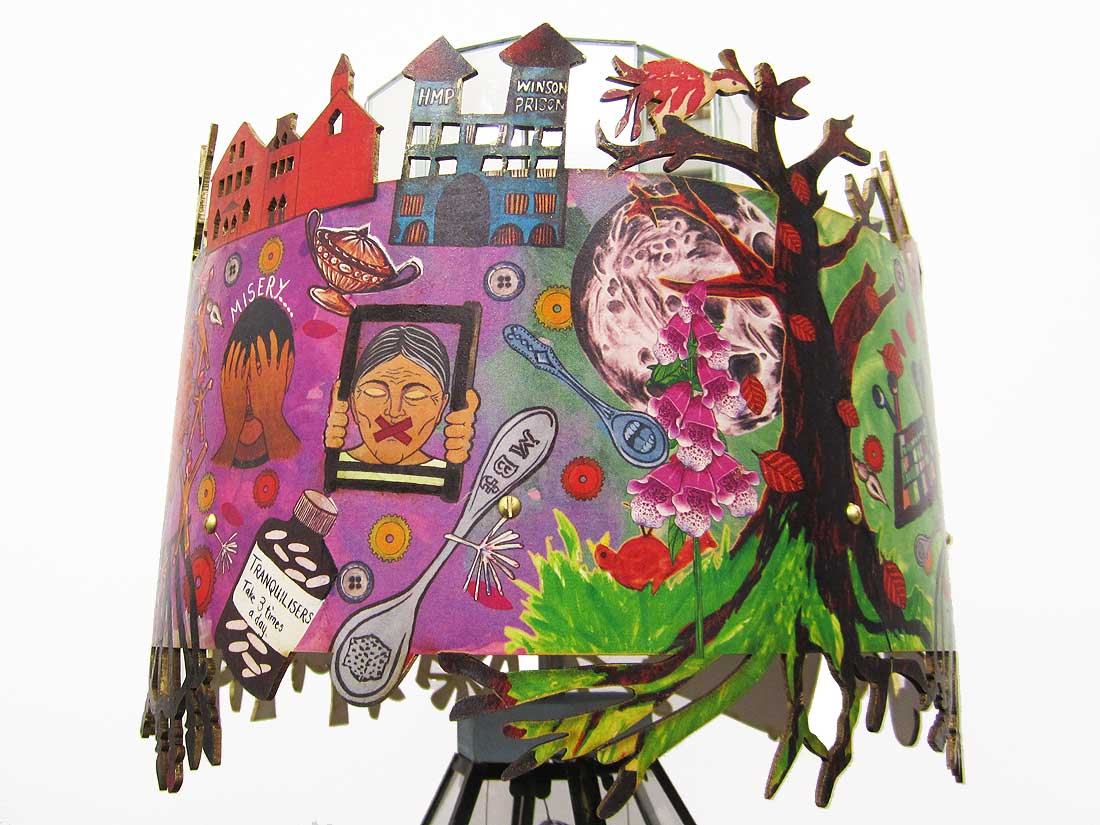 The praxinoscope created during the project.

A partnership between Craftspace, the University of Wolverhampton and Soho House Museum.
Part of the AHRC's Connecting Communities programme.
Spring 2016
Soho House Museum, Birmingham & Somerset Place, London
@tweetcraftspace
#makercentric
Come and see our praxinoscope and take part in our free workshop at the Utopia Fair at Somerset House in London on the 24th to 26th June 2016.
A group of people aged 50+ have been working with artist Melanie Tomlinson at Soho House Museum during May and June 2016 to create a praxiniscope on the theme of Utopia.
Soho House was home to the Birmingham industrialist Matthew Boulton and was also the regular meeting place for The Lunar Society, a leading Enlightenment group. They exchanged ideas, discussed philosophy and conducted experiments, aiming to bring science, culture and commerce together to imagine and enable a better future.
Taking inspiration from Boulton and his colleagues, Maker-Centric drew on locality, heritage objects and memories from the past to stimulate thinking about future communities both utopian and dystopian. Artist Melanie Tomlinson and story teller Gauri Raje helped the group create their own vision of a future society in urban Handsworth through story-telling and collaborative making.
Participants worked together to produce a contemporary praxinoscope (an early form of animation). They used a combination of drawing, painting and metalwork. The group had a session at Fab Lab West Bromwich  based at Sandwell College to make digital laser cut elements.
You can follow the project on the project blog and also read more about previous Connecting Communities projects.
AHRC Research Festival
Maker-Centric is one of a series of participatory arts research projects across the UK that are funded by The Arts and Humanities Research Council's (AHRC) Connected Communities programme. This year the 2016 Research Festival takes the theme of community futures and utopias to mark the 500th anniversary of Thomas More's influential text.
A central aim of the project is to enable community groups to become more involved in, and connected with, their futures through creative means by utilising local heritage and digital resources.
Working with…
Maker-Centric is led by Deirdre Figueiredo, Director of Craftspace and supported by Dr Fiona Hackney, Professor Fashion & Textiles Theories from the University of Wolverhampton and Hannaa Hamdache, Creative Producer at Craftspace funded by the  Weston Jerwood creative bursaries.
Lead Artist Melanie Tomlinson is based in Birmingham works with illustration and metal to create vibrant and intensely detailed sculptures and three dimensional dioramas that reflect her deep love and passion for nature.
Story teller Gauri Raje
Soho House Museum has been the venue for the workshops.
Film maker John Humphreys
Fab Lab West Bromwich at Sandwell College
See the work
The project will showcase at the Utopia Festival at Somerset House in London from 24th to 26th June 2016.
Look out for more details of further events including: a community sharing event, an exhibition at Soho House Museum, a Learning Lab event and a display and workshop for Birmingham Open Heritage Day in September.
Take a look at the leaflet created for the Utopia Fair.
More about the UTOPIA 2016 project
From the Utopia website…
24 – 26 June: The Utopia Fair
Representations of contemporary utopian movements will fill the Edmond J. Safra Fountain Court, celebrating the utopian impulse. In partnership with the AHRC and the Connected Communities Programme, the Fair will showcase the creative outcomes from 25 projects bringing together communities, researchers and artists around the UK to explore utopia now.
UTOPIA 2016: A Year of Imagination and Possibility at Somerset House celebrates the 500th anniversary of the publication of Thomas More's inspirational text and is the largest ever celebration of this radical work anywhere in the world. It spans the realms of art, literature, fashion, design, architecture, film and more, featuring a varied programme of special events, exhibitions and new commissions across the Somerset House site and beyond. The Utopia Treasury, in Somerset House's Great Arch Hall and open all year, will invite people to explore, taste, and imagine utopia.
Thomas More was the first to give a name and form to an idea that has captured the human imagination throughout history: that by imagining a better world is possible, we are empowered to create it. His playful vision, published in 1516, presents an ideal society living on a fictitious island, described in a traveller's tale. More's Utopia is deliberately ambiguous, the Greek words on which the name is based mean both 'no place' and 'good place'.  It is not a blueprint for the future; instead he places importance on the process of dreaming in the now.
To celebrate More's vision, UTOPIA 2016 explores challenges facing contemporary culture and society, and the pivotal role of the arts and culture in creating the space where dreams can take root.
More about the Utopia Festival here:
Utopia2016.com

Utopia 500
Save